OLO Guadalupe featured in Advent prayer book

Pray with us
The Franciscan friars invite you to join them in prayer and reflection this Advent season with the bilingual pocket booklet, Advent with Our Lady of Guadalupe, by Susan Hines-Brigger of Franciscan Media. Each prayer booklet is written in both Spanish and English.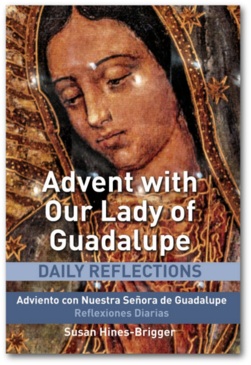 Excerpt from Day 1:
Our Lady of Guadalupe, we look to you and your wisdom as a guide to deeper faith and understanding during this time of waiting. Be with us as we walk toward the joy of Christmas.
Nuestra Señora de Guadalupe, te miramos a ti y a tu sabiduría como una guía para una fe y comprensión más profundas durante este tiempo de espera. Acompáñanos mientras caminamos hacia la alegría de la Navidad.
For your free copy, fill out the subscription form below. This offer is only available in the United States. For International requests, please email friarworks@franciscan.org
Please limit one per household. To purchase larger quantities, email friarworks@franciscan.org or call 513-721-4700.
Advent prayer booklet
To ensure timely delivery, please include your complete name and address. Thank you.
---
Posted in: Advent and Christmas, Prayer