24 Hours for the Lord

Pray with us during '24 Hours for the Lord'
~
When Pope Francis announced the Jubilee Year of Mercy, one of the things he called for was "24 Hours for the Lord," to be held on the Friday and Saturday preceding the fourth Sunday of Lent, March 4-5, 2016.
The Franciscan Friars of St. John the Baptist in the Cincinnati area are responding to this call and invitation.  From 5 p.m. on Friday, March 4, to 5 p.m. on Saturday, March 5, all are welcome to come and pray at St. Anthony Shrine, 5000 Colerain Ave. in Mt. Airy (Cincinnati), anytime during those 24 hours.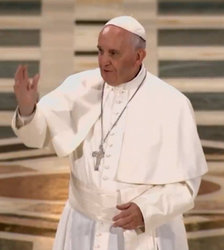 The event will begin with exposition of the Blessed Sacrament and close with Benediction.  At the top of each hour, various individuals or groups will share some form of prayer or devotion (about 10 minutes), and the rest of the hour will be given to quiet personal prayer.  Confessors will be available periodically to celebrate the Sacrament of Reconciliation with those who wish.
Friars, Franciscan sisters, friends in our ministries, prayer groups from our parishes, youth groups and Bible study groups will be leaders for the prayer. Different forms of prayer will be available: rosary; scripture reading; litany; song; and more.  The prayers can be opportunities to pray for situations in our world that need mercy, healing, forgiveness or reconciliation.
"By calling for an attentive listening to the word of God and encouraging the initiative '24 Hours for the Lord', I sought to stress the primacy of prayerful listening to God's word, especially his prophetic word," the Pope said in announcing the event. "The mercy of God is a proclamation made to the world, a proclamation which each Christian is called to experience at first hand."
Share your prayers with us on our Prayer Page.
The friars are looking forward to praying with you and for you especially during this Jubilee Year of Mercy celebration of  '24 Hours for the Lord'
You may want to check with your local parishes to find out about this type on celebration in the area where you live.
Visit our Year of Mercy page for more events and interactive information.
---
Posted in: Events, Missions, News, Newsletter, Pope Francis, Prayer, Saint Francis, Year of Mercy