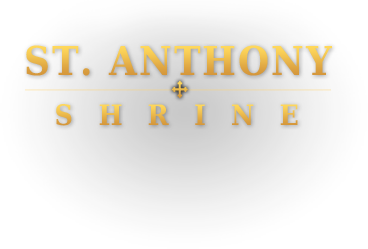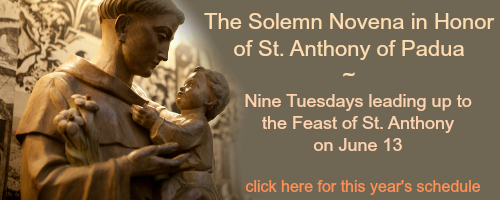 Next Tuesday, April 25,  Fr. Joe Ricchini, OFM, presides at the third of nine Tuesdays leading up to the Solemn Novena in Honor of St. Anthony of Padua on June 13.
Novena prayers at 2:30 pm and Novena Mass at 7 pm
Click here for directions to the Shrine.
PRAYER REQUESTS
Please pray for the following intentions
Jesus i thank u for everything. Today i hav exam plz help me to remember all that i hav studied. Guide me during exam hold my hand n walk with me throuvh my exam. Holy spirit shower ur blessings st anthony n mama mary pray for me to lorc jesus. Jesus i really need u dis day always be there at times i fall n giv me strength to write my exam by ur glory n grace. I ask this in the name of jesus. Amen
mary, ranchi - Monday Apr, 24, 2017
Lord i Glorify u. Thank u lord for all that u hav given me till this day. By your grace n mercy i have always been in your arms of love. Jesus hold my hand n never leave me alone. This day i hav my exam jesus i pray to to grant me success today by your name be with me n guide me throughout the exam . Holy spirit shower your fruits upon me n make calm. I pray to u that i may remember all the things i hav studied n in my negative situation jesus plz help me. At anthony n mama mary pray for me.
mary, ranchi - Monday Apr, 24, 2017
NEWS & EVENTS
Monday Apr, 10, 2017
Br. Gabriel Balassone, OFM, sings Jesus the Lord. ...
Thursday Apr, 06, 2017
"Yahweh" the Breath of God Within Us ...
PRAYER REQUESTS
NEWS & EVENTS