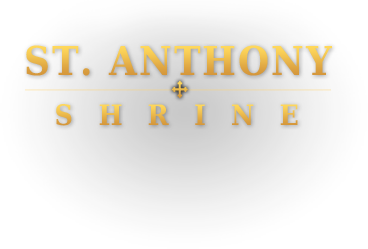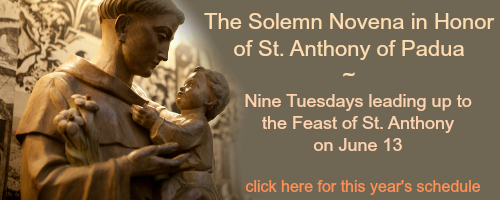 Next Tuesday, May 23,  Join Fr. Hilarion Kistner, OFM, and Sr. Ann Bartko, OSC, for the sixth of nine Tuesdays leading up to the Solemn Novena in Honor of St. Anthony of Padua on June 13.
Novena prayers at 2:30 pm and Novena Mass at 7 pm
Click here for directions to the Shrine.
PRAYER REQUESTS
Please pray for the following intentions
Praying for forgiveness praying Latasha forgive me for all the hurtful things I have said to her praying to hear from Latasha today
Monique S - Friday May, 26, 2017
Please help r do well and be well for self and for my bff Please help business go down on the book help me to become smarter and do well in all areas Please let s and I always be bff
Anom - Friday May, 26, 2017
NEWS & EVENTS
Tuesday May, 16, 2017
Exciting news from Fr. John ...
Monday Apr, 10, 2017
Br. Gabriel Balassone, OFM, sings Jesus the Lord. ...
PRAYER REQUESTS
NEWS & EVENTS