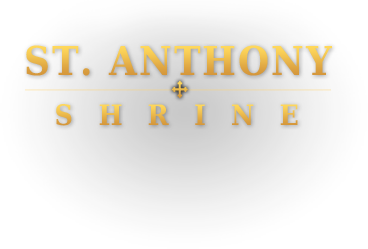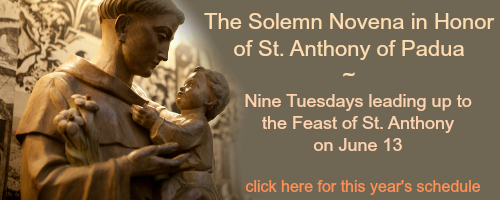 Next Tuesday, May 23,  Join Fr. Hilarion Kistner, OFM, and Sr. Ann Bartko, OSC, for the sixth of nine Tuesdays leading up to the Solemn Novena in Honor of St. Anthony of Padua on June 13.
Novena prayers at 2:30 pm and Novena Mass at 7 pm
Click here for directions to the Shrine.
PRAYER REQUESTS
Please pray for the following intentions
For all those who are employed in producing food and drink for our tables. Amen.
TCB - Sunday May, 28, 2017
St. Isidore the Farmer, pray for all ranchers. Let their herds and flocks be plentiful. Amen.
TCB - Sunday May, 28, 2017
NEWS & EVENTS
Tuesday May, 16, 2017
Exciting news from Fr. John ...
Monday Apr, 10, 2017
Br. Gabriel Balassone, OFM, sings Jesus the Lord. ...
PRAYER REQUESTS
NEWS & EVENTS