A wake-up call for humanity
Paul Marcarelli, the actor known as "Test Man" in the Verizon commercials that ran for years, made iconic the phrase: "Can you hear me now?" Those words echo in my head as the world navigates its way through COVID-19.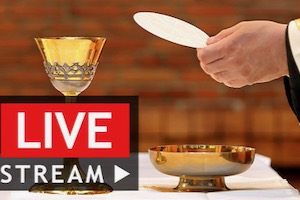 Within a matter of weeks, life across the planet at Warp10 has skidded to well below impulse-power (pardon my Star Trek-ese). Many freeways now have more lanes than cars on them; airports have become parking lots for idled jetliners. Schools are closed for the remainder of the academic year; weekend youth sports competitions are suspended. The Tokyo 2020 Olympic competitions are rescheduled for July 2021. "Can you hear me now?" The number of empty shelves in our grocery stores increases with each visit; routine medical care is postponed indefinitely. Dining in restaurants is restricted to carry-outs only; a new protocol of "social distancing" has become common parlance, along with "flattening the curve." "Can you hear me now?" 
The powerful US economy producing a $21T surging gross domestic product with a soaring stock market has throttled to idle; the loud and virulent cacophony of partisan political bludgeoning that has become standard cultural fare is worse than ever. The price of a gallon of gas is cheaper than ever, but travel is restricted to life-support errands; Disneyland and Disney World, theaters and theme parks are shuttered. "Can you hear me now?" For the first time in my life, and yours, our global faith community is indefinitely dispensed from our Sunday Mass obligation; the rich liturgies of Palm Sunday, Chrism Mass, the Triduum and Solemnity of Easter will be celebrated virtually via the internet. "CAN YOU HEAR ME NOW?"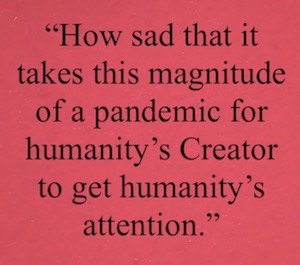 Following 34 years of active service in the US Air Force Chaplain Corps, I now serve in the Air Force Civilian Service corps as Catholic chaplain and pastor of Our Lady Queen of Peace Catholic Community at Langley AFB in Hampton Roads, Va. On today's national security radar are roughly half-a-dozen combat zones, mostly in Southwest Asia and Africa, that continue to take the lives of our young service personnel. Yet at this very moment in time the single greatest cause of death among those same young Americans is not combat, but suicide, to include two cadets in their final year at the Air Force Academy this past week. "CAN YOU HEAR ME NOW?"
I don't believe it is an accident that this is occurring in the heart of our Lenten and Easter seasons. In salvation history God has used a wide array of "platforms" to get humanity's attention when it dismissed Him as irrelevant to human life, but I suspect COVID-19 exceeds even the great flood of Noah's era. How sad that it takes this magnitude of a pandemic for humanity's Creator to get humanity's attention. A globalized secularism, an increasingly sophisticated technological prowess, a frenetic pace of change within a culture in hyper-drive is forced to confront its vulnerability and dependency on the author and source of every single heartbeat of life, born and unborn. 
Of the three elements of prayer, fasting and almsgiving that lead us to the heart of Lent, this year's experience of fasting will be one for the history books: a rugged fast from our freedoms of movement and assembly, sacraments and sacred gatherings, family events and provincial chapters. People and routines taken for granted have suddenly gained an exponential importance. In Michaels Woods, the neighborhood where I live just outside of Hampton, I see scores of families walking, biking and spending quality time together in their back yards or on the neighborhood streets where they would otherwise be scattered to the winds of the weekend. The Sunday edition of our newspaper publishes games for family recreation and recipes for interactive family meal preparation. Costly in terms of the loss of life and employment, especially among the poor, is it possible that the world might come out of COVID-19 wiser and healthier, having died to empty urgencies and resurrected to what really matters: the people of our lives and the precious shortness of time this side of eternity?
In the aftermath of the horrible scourge of the sexual abuse scandal, can this global quarantine be posturing us for a global renaissance of life and faith: a rebirth of our Church, our nation, our Order of Friars Minor? In my heart of hearts, I want very much to hope so. If this existential lockdown has forced the dying to some 21st century comfort zones that became impediments to the living presence of Christ within us, then, perhaps by the grace of God, it can become the rising of a whole new angle of living, expanding our interior capacity for the presence of Christ and enabling us to dispel sorrow with Joy, pain with Healing, brokenness with Reconciliation, despair with Promise, and darkness with Light: the Light of the Risen Christ – to and with friars, family and all whose lives we touch. 
I know I'm dating myself, but in my head alongside of "Can You Hear Me Now" is the 59th Street Bridge Song by Simon & Garfunkel released in1966: Slow down, you move too fast. You got to make the morning last. Just kicking down the cobblestones. Looking for fun and feeling groovy. I can't remember the last time I used that word groovy, but the lyrics fondly recall a time before user-IDs and passwords, smart phones, social media and the internet, when the cultural pace was far more glacial and reflective than what we've become. 
Author Theodore Roethke writes: "In a dark time, the eye begins to see." Should the rugged COVID-19 fasting of Lent 2020 become one for the history books, so too should the Solemnity of the Resurrection of Our Lord Jesus Christ, not just virtually, but existentially, through each of us and all of us. Let us, to quote Capt. Jean-Luc Picard, "Make it so." Happy Easter!
(Bob Bruno is Catholic chaplain and pastor of Our Lady Queen of Peace Catholic Community at Langley Air Force Base in Hampton Roads, Va.)
This story first appeared at franciscan.org
---
Posted in: Prayer