Almond Cookies for St. Francis of Assisi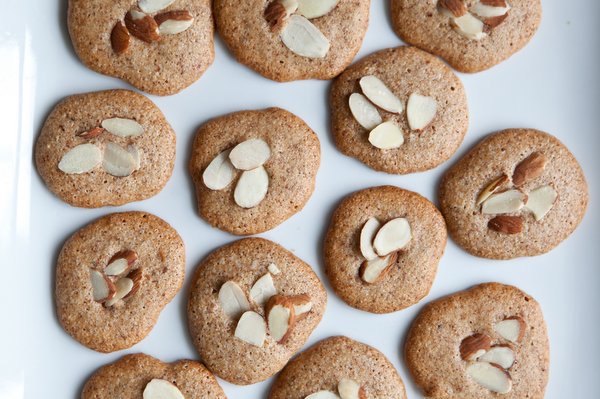 Blessed Jacoba of Settesoli (1190-1273) was a follower of St. Francis of Assisi.  As Francis lay dying, he asked "Brother" Jacoba to bring him his favorite treat, almond cookies.  Francis died on the evening of Saturday, October 3, 1226.  
Many friar communities bake almond pastries as part of their Transitus and Feast Day celebrations. 
Why not start a family tradition with the Feast of St. Francis and share these with your family, friends, and the poor among you?
         St. Francis' Almond Cookies
             1 3/4 Cups whole almonds
             1 cup sugar
             2 Tablespoons Flour
             1/8 teaspoon salt
             4 large egg whites
             1 teaspoon almond extract
             1/4 Cup sliced almonds
Toast whole almonds in 300° oven 5 minutes.  Cool.  Place in food processor with sugar, flour, and salt.  Process until finely ground.  Add and process egg whites and extract.
Drop by teaspoonfuls on parchment covered baking sheet 1" apart.  Sprinkle with sliced almonds.  Bake at 300° for 25 minutes.
Yield: 4 dozen cookies
---
Posted in: Uncategorized