Book proceeds help Get Kids to School program
Barb Coyle, a lifelong friend, volunteer and loyal supporter of Fr. Jim Bok and his ministries in Jamaica has written her second children's book.
A portion of the proceeds from the sale of Drew and Stu's Adventurous Shoes will go to supporting the Get Kids to School program in Negril, Jamaica. Her first book, In the Land of "Soon Come", raised over $19,000 for outreach programs in Jamaica.
Barb talks about the project in her own words below.
Why my proceeds are being donated to Get Kids to School.
My cell phone rang and Fr. Jim's name flashed on the screen. " Ya mon, how are you Fr. Jim"? Much to my surprise, the voice on the other end said, "Hi Ms. Barbara, this is Andre'. I am here with Fr. Jim and I wanted to call you to tell you I made the Dean's list"!
Andre had just finished his first year in college and couldn't wait to share his good news with me. I had met Andre 11 years ago when he came to the first vacation bible school I helped organize at Mary Gate of Heaven Parish in Negril. I have watched Andre grow and mature into the wonderful young man he is today.
His life has not been an easy one but, because of people like Fr. Jim, Andre has met with success, not only in his academic endeavors but in his personal life as well. Andre, now, serves as a positive role model for all of the children who are in Fr. Jim's Get Kids to School program.
Long after our conversation ended, I kept thinking about Andre and just how proud I was of him. And then I thought about the other children who have a chance, just like Andre, to reach this kind of success because of Get Kids to School program. That is when I decided the book sales from my new book, Drew and Stu's Adventurous Shoes would be given to GKTS program.
Inspiration for my story….
Andrew (Drew) is our first and only grandchild. The idea for my book came to me when Andrew was just a few weeks old. Andrew was sleeping peacefully in my arms, while his dog Stu snoozed next to us on the couch. Spotting his dad's hiking boots by the back door, my mind raced ahead to the first time Andrew would be old enough to strap on his boots, grab Stu by his leash and venture into the woods in their back yard. I looked down at Andrew's sweet face and thought, "Oh, the adventures the two of you are going to have when you are older"! Immediately the idea for my story popped into my mind, title and all… Drew and Stu's Adventurous Shoes.
In my mind's eye, I saw magical buttons on these shoes. When pushed, these shoes would take Drew and Stu on adventures around the world. From the blue ocean shore to a safari in Africa, to the moon and the stars to the frozen tundra of Alaska, there was no limit to the adventures they would experience together. Much to my surprise, the story in my mind took on a life of its own. Because of the brilliant work of my creative, talented artist, Maureen Born, my words traveled from the pages of my notebook to the pages of this beautifully illustrated children's book. My hope is that Drew and Stu's adventures will inspire children to go to their closet, grab their shoes and create their own imagined adventures.
Get a signed copy of Drew and Stu's Adventurous Shoes by attending a book signing.  To learn more, visit  www.drewandstubook.com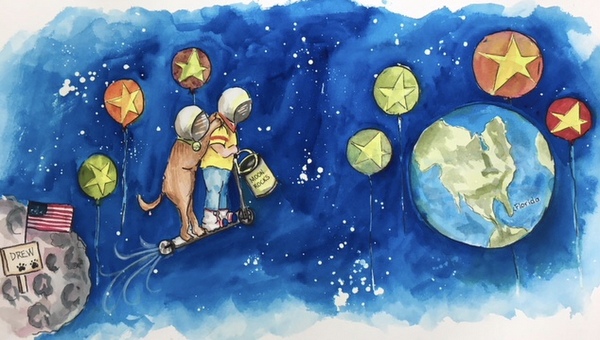 ---