Brother and sister of angels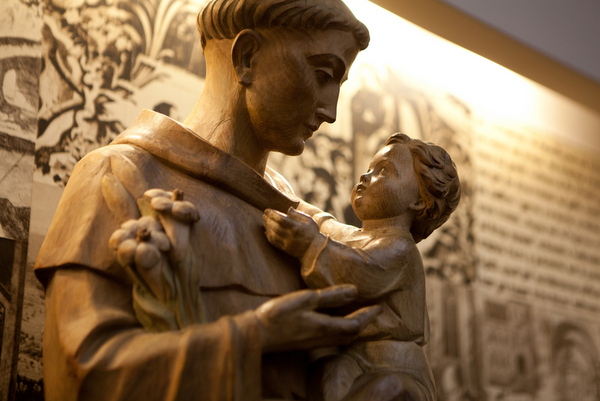 Trust in Jesus and St. Anthony brings
bold Words and immense joy to a young couple.
~
Three years ago I was asked to sing at the burial service of a baby boy who survived only a few hours after birth. His parents, Vincent and Louise, lost their first child, a daughter, fifteen months earlier.  She had also only lived a few hours after birth.
At the graveside for the baby boy, I waited until everyone left and I spoke to the mother.  I said to her, "Almighty God will reward your acceptance of his taking both your children to heaven.  And you will have your baby." Then I added, "Something tells me that your child will not be the last, she smiled weakly, tears in her eyes and said thank you."
A year or so later and I received a call from Vincent to say that Louise was pregnant and would spend the last three months of her confinement in a hospital bed hoping this would help.  I told Vincent that I would pray a nine Tuesday Novena to St. Anthony, who I have a great devotion to, and I sent all the family Novena cards to join me on the given date.  The donation to the Bread of St. Anthony was sent and the Novena was prayed.
Three months later Joseph Dominic was born and since then a sister for Joseph has arrived whose name I have forgotten in my old age.  I hasten to add that I had no right to tell Louise that she would have these children, but at the graveside I just knew that it would happen.
Isn't God wonderful!  So thank you Jesus and you too, St. Anthony!
Love you to bits.
--John
The Solemn Novena in Honor of St. Anthony of Padua begins Tuesday, April 14
Join us at the Shrine for the Novena prayers at 2:30 pm and Novena Mass at 7 pm.  Can't make it to the Shrine?  Make your own novena with the prayers on our Prayer Page.  You can donate to St. Anthony Bread or any of our ministries at our Donation Page.  We'd love to hear your St. Anthony story too.  Use our Contact Page or Email: shrine@franciscan.org or Call Colleen Cushard at: 513-721-4700
---
Posted in: Uncategorized