How can I get my children to return to the Church without nagging?

Fr. Jim Van Vurst recently answered a mother's confidential question  Since this is a very common concern for parents, with her permission, we are sharing Fr. Jim's wise advice.
~
Dear Mary Ann,
Thanks for writing. As I read your email, I was reminded that in today's world no one has a more difficult ministry and work than a mom. And the reason is simple: You, I know, would lay down your life for your loved ones. It would be automatic for you to do that. That's what moms do. But it's almost harder to stand by and watch them fumble around, trying to figure out what they are doing and need to do. They have grown up (young people that is) in a totally mixed up world where society so often by word and example gives the WORST kind of advice. So, society has laid out for them a set of values and one of those is "do whatever feels good to you." And that's why religious activities have little "feel good" aspect about them and why they are not attractive at all for many young people in society. So, as you said, nagging will accomplish nothing or even worse bring about the very opposite.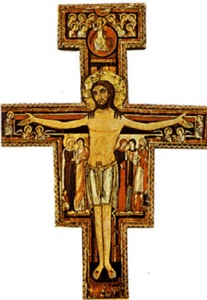 But I want to approach this with you from a different point of view. Your role, it seems to me right now, is to be the "pray-er person" for your family...the intercessor and the advocate. Now, that means that your influence might seem less than if you could challenge the young ones. But of course, that would cause just the opposite to happen. Young people today are living in a society that constantly holds up bad examples, e.g. selfishness, "you first in everything" etc.
I want to emphasize that as a woman of faith and given your age and wisdom and life experience....you are the most important person in their lives right even if you don't say a word to them or question, scold, argue, etc. Right now it is YOU AND GOD together going to spiritual battle for them. It's an act of faith on your part but you are the kind of person, I think, who knows what faith really means...and that includes trust and hope. Above all, show your love for them and compliment them when they deserve compliments. Remember, if you love them as Mom and Grandma, God loves them infinitely and I guarantee you He is after them. Keep in mind too, more people today go through a growing up number of years and remember "wisdom comes with age." And usually wisdom comes from learning from mistakes and finally waking up to what life is really about. Give them time to go through what they have to go through....and pray for them all every day. That's the best thing you can do.
My prayers are with them and you.
God bless,
Fr. Jim Van Vurst, OFM
You can share your prayers with our online community on our Prayer Page.
Pray for others who have also posted their needs and concerns at View Prayer Concerns.
St. Anthony was devoted to prayer to the Lord, read his words at St. Anthony Prayers.
---
Posted in: Newsletter, Prayer, Saint Anthony, Year of Mercy