This Friar Has Seen His Share Of Crime Scenes
At 75, Fr. Bruno Kremp, OFM, is yearning to try out retirement, but you wouldn't know it to look at him.  Tall and lean, in his 47th year as a Franciscan priest, he is energetic and enthusiastically attacks whatever he does.
Fr. Bruno currently divides his time between being a chaplain to the Kolping Society, a German Catholic fraternal organization, and being a Sacramental Minister and hospital chaplain.
He was 13 when he immigrated to this country from Germany with his mother and father in 1949.  "My second day in the U.S., I was sitting in a Cincinnati classroom at Holy Name School in Mt. Auburn," he said.  "In off times, I got a good paying job setting pins at the Friars Club bowling alley," part of a youth ministry founded by Franciscans. "I earned 17 cents an hour."
"Not too long after we got here, when my parents and I were deciding where I should go to high school, I met Fr. Severin [Lamping], who took me to see St. Francis Seminary High School.  That was it!", he exclaimed. "I knew immediately I was forever to be with the Franciscans, and can't imagine life any other way."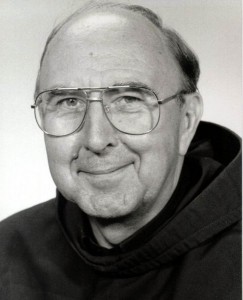 Bruno was also the first chaplain for the Hamilton County Sheriff's Department in Cincinnati.   He explained how he ended up rushing to murders and accidents, fires and other tragedies with a siren and red bubble on his car top.  "Somehow, my dad and his casual conversations in the Hamilton County Courthouse with former Hamilton County Sheriff Dan Tehan and Common Pleas Judge John Keefe sparked the idea of their having a chaplain for the deputies," he said.  Dad said he knew the right priest for the job.
"I learned to deal with blood and guts, disasters and death." he said. "I was a negotiator on the SWAT and Crisis Intervention Teams." His volunteer work extended beyond deputies and police to other first responders such as emergency medical technicians, paramedics and firemen. "I learned there are right ways of saying hard things," he added describing the work as difficult, adventuresome and rewarding.
Hearing about the chaplain's success, the FBI asked Bruno to be available to them, too.  "It could have taken full time if I had let it," he continued, but he was also doing parish work. "There was a lot of publicity and rewards and plaques to go along with it. The one thing that was really difficult was when there was a suicide.  There is no easy way around it, but it was hard for the first ones at the scene, then it was hard to tell the families." And after that, "I counseled the staff."  He retired from the position in 2008 after 40 years.
As a social worker, Joanne M. Queenan has worked in hospice, rehabilitation, dialysis, and with the homeless and poor.  Her book, The Boys on the Rock, Listening to the Voices of the Homeless, was published in August of 2012.
---
Posted in: Missions, News, Prayer, Saint Francis, Senior Friars