His Life Revolved Around People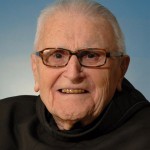 Sharing a memory of Fr. Noel William, OFM, Fr. Dan Anderson, OFM, prefaced it with, "He's been pretty old for a pretty long time."  Of all the comments at Noel's funeral on Tuesday – and there were many – this was probably the most telling. Noel was a senior for decades before his death on March 23 at the age of 97. That's the friar most of us knew, a gentleman and a gentle man who never let aging rob him of his charm, his wit or his dignity. In recent years Noel also became a symbol, a yardstick against which milestones are measured. He was a friar for 78 years, more than half the history of the province.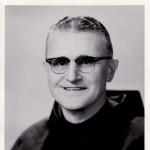 In his prime Noel was a teacher, a chaplain, a retreat master, a pastor, a band director and a pioneering missionary in the Panhandle Missions of Oklahoma. He took to preaching so he could emulate Fr. Daniel Linfert, whose fire-and-brimstone sermons inspired this youngster from Brookville, Ind., to become a friar. But wherever Noel was and whatever he did, his life revolved around people, even in his last nine years of retirement and wheelchair confinement at St. Paul's Archbishop Leibold Home (Little Sisters) in Cincinnati.
Stuck in his bed, "He would say again and again, 'I want to be with the people,'" said Fr. Joe Rigali, OFM, Resident Chaplain at the home. And they wanted to be with him. "He attracted all ages," said Mother Francis Gabriel King, lsp, Mother Superior at Little Sisters. "There was something in him that drew them," from fellow residents Leland and Mary Ann Schneider, who doted upon Noel, to Postulant Ramon Castellon, whose weekly ministry brought him to the nursing home. "He always had that bright smile," said Ramon, describing their brief friendship as "very beautiful."
"He certainly had a pastor's heart," said Provincial Minister Fr. Jeff Scheeler, OFM, who celebrated the funeral Mass at Leibold Home. Fr. Loren Connell, OFM, remembered how Noel helped him through a rough time. "I was in a difficult spot," he said.  "Noel called me on the phone and said, 'We can't take care of it right now, but we will.  Hang in there, Bud.' I am grateful for what he did for me." Jeff shared a memory on behalf of Fr. Henry Beck, OFM. "When Henry was in the seminary he lived at St. Lawrence in Lafayette," where Noel was pastor. "Every night Noel asked Henry, 'Well, Bud, what kind of trouble did you get into today?'" It was the plainspoken pastor's way of showing his concern.
Caregivers at the nursing home spoke fondly of Noel. "He never complained about his health," said Mother Francis, even when his frailty precluded the treatment of broken bones he suffered in recent years. "No matter how sick he was, he would want to get up," said Tracy Jones. "He always had that smile and a little sparkle in his eye that made you want to be near him," said Rebecca Del Vecchio. "He always made sure his appearance was good," said Tracy, who one day caught Noel primping and asked, "Father, why are you looking in the mirror?" He responded, "Because I'm good-looking."
He loved to laugh, "and I loved making him laugh," said Br. David Crank, OFM, whose care for Noel was an important part of his ministry as Director of Senior Friars. "He was a happy friar." What struck Dan was "how alive he was – right up to the end." In conversation, Noel would mention current events or things he was reading. When he was assigned a role in last year's Transitus observance, Dan solicitously asked, "Do you know what you're doing?" To which Noel responded, "I'm old. I'm not dumb."
Homilist Fr. Cyprian Berens, OFM, traced Noel's journey as a friar: his days at Roger Bacon as band director; his assignment to the minor seminary; his missionary work in Oklahoma and his spiritual bonding with Mother Frances Cabrini; his successful pastoring of parishes in several states; the soup kitchen he founded for the poor in Louisville. "There is much to celebrate in this life just ended," Cyprian said. "We may never know how much he achieved for the Church."
One example: "A few years ago a group of volunteers came here from Coldwater, Ohio, to offer their services to our residents. By some human magnetism they were drawn to Fr. Noel, and they wanted to know about his ministries, his birthday, his prayer life." The following year, they all returned to celebrate Noel's birthday. "They could see the Gospel life in a man with no veneer, no charming performance, no carefully projected personality. This good priest plainly cared for them, they cared for him, and that, too, is evangelization."
 Loren remembered the first provincial meeting Noel was unable to attend because of ill health. "It seemed strange this old guy wasn't there," he said, voicing the "end of an era" sentiment that pervaded the funeral. And in the days to come, the absence of this old guy will indeed seem strange.
Toni Cashnelli is the Communications Director for the Province of St. John the Baptist.
Signup for our newsletter!