Fr. Robert Bruno, OFM: Serving God and Country
Our friars serve in a variety of settings—parishes, schools, retreat centers, and the missions, to name a few. Some friars work in multiple areas and countries over the years and some have a more concentrated, local focus.
As we approach Memorial Day and remember and honor those who have given their lives in service to our country, we want to introduce you to Fr. Robert (Bob) Bruno—Air Force Chaplain, Colonel (retired), and Franciscan friar. As you can imagine, he falls into the category of well-traveled friars who have ministered to people all over the world.
Fr. Bob entered the Franciscan minor seminary in 1964 after spending time with some friars at his hometown parish of Our Lady of Lourdes near Youngstown, Ohio. There was a Franciscan friary nearby (St. Mary of the Angels Friary in Columbiana), and the friars were often present and active in the life of his parish. Fr. Bob got to know the friars, learn more about the Order, and was inspired enough by the Franciscan charism to begin formation.
After first profession of vows in 1969, Fr. Bob completed undergraduate studies from 1969-1973, and he was ordained to the Franciscan priesthood in 1977. He met three more inspiring friars who were also military chaplains—two were in the Air Force and one was in the Army. One of the friars sent him a Christmas card every year and spoke of how, as a chaplain, he was able to minister to young families and young service men and women at very critical moments in their lives. It all sounded "interesting, exciting, and important" to Fr. Bob, and he entered the Air Force in August of 1980 and became a chaplain in the Air Force Chaplain Corps.
Fr. Bob's Air Force service spanned 34 years, during which he moved 15 times, won nine awards and decorations, was promoted five times, and partook in four overseas tours. Most importantly, his work as an Air Force Chaplain allowed him the opportunity to serve in what he calls a "wonderful, extremely rewarding, and challenging ministry" that allowed him to live out his Franciscan vows.
"As chaplains, we always did everything in our power to make ourselves as visible as we possibly could to the entire chain of command, Fr. Bob says. "We always wanted people to know how they could get a hold of us, whether it was during duty hours, after duty hours, week nights, or weekends."
Fr. Bob dealt with many different types of difficult, life-threatening issues, including post-traumatic stress disorder, traumatic brain injuries, and suicides. His guidance was always based on the principle of integrity and Franciscan values.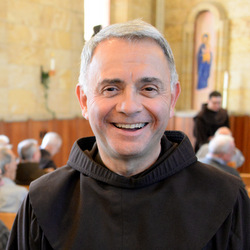 During his time in the Air Force, Fr. Bob kept in touch with his Franciscan brothers, with whom he maintained close relationships. He was able to speak with them regularly and even traveled back for annual retreats, solemn professions, ordinations, and other events.
Fr. Bob retired from active duty in 2014 and is now stationed at Langley Air Force Base in Hampton, Virginia. He has a civil service position with the Air Force and serves as pastor at Our Lady Queen of Peace Catholic Community, which was in need of a Catholic priest until his arrival. Though a change from what he's done in the past, Fr. Bob says he's truly enjoying being a pastor to our active duty service personnel, their families, and our veterans.
We thank you, Fr. Bob, for your many years of service to God and country!
In the video below from 2013, Fr. Bob was serving at the Air Force Academy in Colorado Springs, Colorado. In it he shares some of the challenges and rewards of his ministry.
---
Posted in: Missions