Friars share their post-pandemic hopes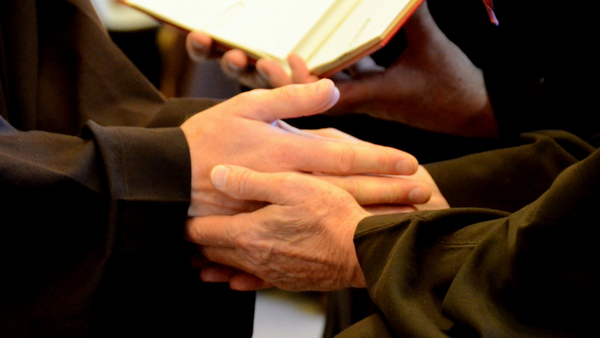 We asked our friars to answer the question, "What is one thing I'd like to do when the pandemic fades?" Here are their responses.
Fr. Loren Connell, OFM
• Get acquainted with the orchestras, restaurants, parks and museums of the Lehigh Valley, Pa.
• Present programs at St Francis Retreat House [in Easton]
• Attend in-person Al-Anon meetings
• Visit my family in Connecticut
• Visit other friars from D.C. to New York
• Meet with the provincial secretary and archivist in Cincinnati to update the Necrology (and enjoy a chopped liver sandwich at Block's Bagels in Columbus on my way there)
• Make a pilgrimage to friar burial sites in Arizona and New Mexico
Fr. Clifford Hennings, OFM
I have a strong desire for live music. Apart from that, I want to be able to go swimming laps again.
Fr. Mike Chowning, OFM
• Visit my 90-year-old sister who lives in Ann Arbor, Mich., and my 83-year-old brother who lives in Fairfield Glade, Tenn. They are my only two remaining of my nine siblings. It's been almost two years (by this summer) since I've seen either one.
• Be able to drop by a friary anytime and visit with my brothers over a cup of coffee.
• Go fly fishing one last time before my legs and feet become too weak and unsteady to wade the waters with brother trout.
• Finally get some expert help getting my amateur radio station functioning properly.
Fr. Bruce Hausfeld, OFM, and Fr. Bryant Hausfeld, OFM
Last year we were supposed to have our 50th consecutive family reunion. We did not have it because of the virus. Starting when our mom turned 70, we always had it the Saturday before or after her birthday and continued the reunion after she died at age 91. We hope we can have the reunion this year" with our "immediate family" of about 150 nieces, nephews, greats and great-greats, and their spouses at my nephew's house in Union, Ky.
Fr. Page Polk, OFM
I would like to pack my bag and travel.
Br. Juniper Crouch, OFM
I think a good many of us are sorta daydreaming about visiting long-distance friends and family, shoot, even the van (if it could) probably would love to kick up its tires and cruise for hours on end instead of the stop-and-go mostly done now. I am thinking about fraternity meetings with friars and perhaps by June /July, a trip way north, it's due. You tend to have a faded memory if you don't refresh the vision every now and then, no?
Fr. Bob Bruno, OFM
• Travel to gather with friars, family and friends to mourn the loss of departed loved ones
• Welcome in the newly arrived through solemn profession (friars), marriage or birth (family/friends)
• Share Covid stories of survival
• Assemble Our Lady Queen of Peace Catholic Community here at Langley Air Force Base with one grand reunion
Br. Michael Radomski, OFM
I've long believed in the power of "ministry of presence", and there are in my life a small number of friends for whom face-to-face presence is critically vital. Not being able to be present, face-to-face, with these friends—especially because of increased vulnerability due to age and illness— I know has been very difficult for them as well as for me. And it pains me to be unable to help them with the isolation they are experiencing. Phone calls and emails help but are little substitute. Shortly, I will receive my first vaccination. I have great hope that after my second shot I will be able to do more to help alleviate the weight of isolation these dear friends are enduring.
Br. Joshua Richter, OFM
Moving to a new house, in a new city to begin studies in a new school is challenging in normal conditions. As the pandemic comes under control, I hope to get to meet some of my professors and classmates, along with getting to see the city of Chicago in action.
Fr. Pat McCloskey, OFM
I'm looking forward to visiting family members in Michigan—and to returning to movie theaters.
Br. Dominic Lococo, OFM
Sometime this Spring or early Summer, Fr Max Langenderfer and I plan on driving down to Louisville to visit the late Fr. Tony Walter's sister, Mary Jo. It will be our first visit since Tony passed away in October. We have photos of family gatherings to deliver as well. It will be an emotional visit, but hopefully it will bring peace and holy joy to her and her family.
Fr. Jeremy Harrington, OFM
I am looking forward to opportunities to meet others --friars, parishioners, the sick--face-to-face with no masks. I wear a mask and understand their importance. But I've discovered it harder for me to hear and understand others when we are wearing masks. A crowded, noisy setting makes it even more difficult.
Fr. Carl Langenderfer, OFM
When my Mom, Florence, was still alive, we would gather as a family to celebrate her birthday on Oct. 10. After she died in 2014 at the age of 99, we gathered sometime around her birthday to remember her and celebrate her life – sometimes in the Cincinnati area, other times in the Missoula, Mont., area where our sister Mary and her husband Weber live or in the Poulsbo, Wash., area where my sister Rita and her husband Jim live. We were not able to get together this past summer or in October because of the pandemic. Now we are making plans to meet this September west of Rocky Mountain National Park to spend time catching up with each other, celebrating together, enjoying some good meals, and doing some hiking in the park or the areas around it. Hopefully the weather will cooperate!
Br. Mark Ligett, OFM
Most people, myself included, would say they do not look forward to a hospitalization. Every year since 2007 when I had my kidney transplant, I have traveled back to Washington University Hospital in Saint Louis, Mo., for my annual post-operative check-up. Last August I was not able to make the trip because of Covid restrictions. I can hardly wait to make the trip this August! I am so looking forward to seeing the doctors and nurses who have become like friends to me. I will also spend time with my donor-friend whose kidney I possess. The drive to-and-from the hospital will also allow me to visit family and friends. I am indeed looking forward to seeing that St. Louis arch!
Fr. Tom Speier, OFM
Looking forward to doing lots of things, especially having a church full of people and attending a Reds' game!
Fr. Al Hirt, OFM
On the door of one of the offices in our Province headquarters, someone posted "DON'T WASTE A GOOD PANDEMIC." I hope some of our priorities are changed; that there will be some transformation, not just a return to the status quo. That being said, our friary is SO looking forward to sharing our dinners with people we have missed.
Fr. Bill Farris, OFM
I look forward to spending time with my brother in South Bend who has special needs and has been carefully isolated for over a year. I've only seen him once since the pandemic restrictions began.
Fr. Jeff Scheeler, OFM
I am looking forward to going to a movie. Going to a movie sometimes signaled a day off, and an opportunity to forget everything else and enter into another world for a time.
Fr. John Joseph Gonchar, OFM
My niece has reserved a shelter in Pittsburgh's North Park for a family reunion this coming August. I'm hoping that conditions will allow me to participate. It would be good to see family and friends again. May the good Lord bring this pandemic to an end by then.
This story first appeared in the SJB News Notes 
---
Posted in: Prayer