Hearing St. Anthony
Paul heard, "Stop and get out of the vehicle."
~
I wasn't going to explain the check, but I changed my mind.
The $100 check is what I promised St. Anthony if he would help me locate my wedding ring.
We flew in from New York City on a Saturday evening and after unpacking, visited our local pub for some dinner.  As soon as we were seated at a booth, I noticed my ring was missing.  My wife started backtracking the day, but I told her it was recent.
I have a habit of twirling my ring on my finger, so it was either in my car, or fell off while unpacking within the last hour.  I've lost weight lately, so it's a bit looser.  At least in was in Macon I thought.
I told her what to order for me and went outside to search my vehicle.  I work in law enforcement so I have a very bright flashlight.  Nothing inside the vehicle, nothing visible under or around it.  It was parked on an incline, so if the ring rolled away… it could be in a grate.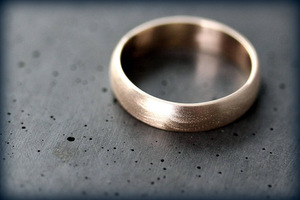 After a thorough search, my wife said we would just replace my ring.  I have worn that ring for almost 25 years, every day and I wanted THE ring.  I got online and found a prayer to St. Anthony.  We prayed it in the restaurant and I promised I would send $100 to St. Anthony Shrine if we located the ring.
After eating, we jumped in the vehicle and I started backing out.  Something told me to get out my bright flashlight and I did, shining it in the empty space.  I could see what looked like a silver pop top or something, but my ring was gold.  My wife said "see anything?" and I said no.
I put the vehicle back in reverse to leave when someone told me to STOP right there and get OUT of the vehicle.  I just had to exit the vehicle.
My wife said what are you doing, there's traffic back there.  I put the transmission in Park anyway and jumped out, switched on my light and what looked like a pop top – was my RING.  Unbelievable.  It took me a minute to get the car back in the parking space as we realized what had just happened.
Paul
We'd love to hear your St. Anthony story too. Use our Contact Page or Email: shrine@franciscan.org or Call Colleen Cushard at: 513-721-4700. Share your prayers with us and our online community at our Prayer Page. You can donate to St. Anthony Bread or any of our ministries at our Donation Page.
---
Posted in: Newsletter, Prayer, Saint Anthony