The spiritual wisdom of Fr. Joe Rayes, OFM
In 1987, Fr. Joe Rayes, OFM wrote a book called Living Religious Vows, but what impressed people the most was that he lived what he preached.  Fr. Joe was a passionate man proud of his Lebanese heritage. He gladly proclaimed the mercy of God to all.  He was a friar for 56 years and died at the age of 76 in 2007.
Recently Dan Nolan, a former friar began working at the front desk here at the friary.  He is a joyful and fun loving person willing to help with absolutely everything and anything.  One morning Dan started telling me a story about when he lived with Fr. Joe in Houma, Louisiana.  Dan tells me that he would jokingly say that he loved to preach the Gospel, but really had only three themes in his homilies: 1. God loves us beyond all understanding, 2. God loves us beyond all understanding, and 3. God loves us beyond all understanding. The Gospel or "good news" for Fr. Joe was all about God's love.
Not more than a few minutes later, I received a gift on line from a man named Rudy that wrote in memory of Fr. Joe Rayes in the comments section.  I sent an email to thank him and mentioned that coincidently we had just been having a conversation about Fr. Joe.
He sent an email back to me.  It was so touching that I asked him if I could share this with all of you.  His second note said simply "Anything to honor Fr. Joe".  His email is below:
Thanks Colleen,
I learned much about God from Fr. Joe during the time he was my spiritual director in the late 1980's while serving as Director of the Lumen Christi Retreat Center in Houma, LA. The wisdom of Joe Rayes taught me that:
·       God is a God of surprises.
·       God is slow, but he is always on time.
·       God draws straight with crooked lines.
·       We must waste time with God and those we love.
·       Each of us is a mixture of mud and gold.
·       We each have weeds growing amongst the wheat of our interior lives.
·       The road of life is hard for everyone; but have faith because . . .
·       We are all on a pilgrimage to God.
·       The kingdom of God is in the here and now.
·       All are called.
·       Live in the present moment.
·       Discernment is essential to decision making.
·       Prayer is the way to God.
·       Have faith:  to desire is to obtain; to aspire is to achieve.
·       With God all things are possible.
Joe Rayes had a profound impact on my life.
Thank you Rudy for allowing us to honor Fr. Joe with your beautiful tribute!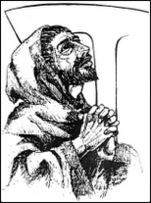 I am told that if Fr. Joe were here to read the above passage, he'd likely be a little embarrassed. He signed the letters OFM behind his name; Order of Friars Minor. To be "Minor," to be lesser, to be a servant, and to be humble. Fr. Joe lived his life with Franciscan joy and humility.
The iconic images of St. Francis made by artist Sr. Kay Berger, OSF, were modeled after Fr. Joe including this drawing of St. Francis praying.
---
Posted in: Missions, Newsletter, Prayer, Saint Francis, Senior Friars