Kids share the fun at Friars Club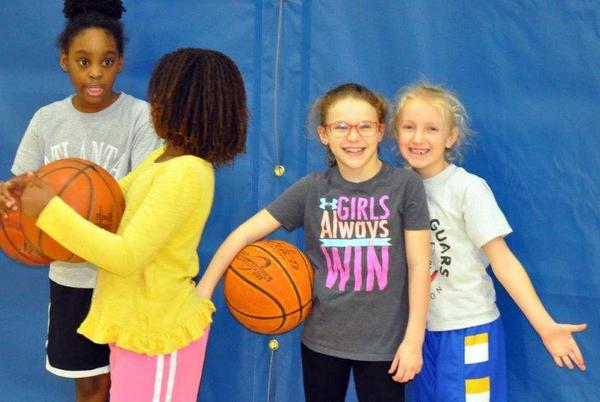 March Madness!
~
Do you have any idea what it is like to spend a Saturday with between 650 and 800 kids? Let's do the math: 10 kids on a team, 20 kids on a court and 80 kids on four courts, every hour on the hour from 9 a.m. to 6 p.m. That makes for one long day.
Welcome to the world of basketball at Friars Club in Cincinnati. There are two leagues. Our Friars Winter League consists of 250 children – boys and girls – in grades 2 to 6. Ages: 7 to 12 years old. This league began the first weekend in December and ends the last weekend in February. It is a long three months. With another league playing at the same time, add another 550 kids to the mix.
Recently a friend of mine wrote, "I think you are staying very young by being with all of those children." If I am "staying very young", then why do I feel "so very old?" It is exciting, though, to be around all these kids. They are so full of life and energy that it does rub off. The kids are here to have fun. They smile and laugh, learn the basics of the game and the value of good sportsmanship. We like to think that at this age it is not about winning or losing, but about being part of a team and developing friends.
The crowd roars
So what do I do on a typical Saturday at Friars Club? Behind the courts and next to the Learning Center, where we tutor the kids, is my office. Changing into my "work clothes" – my Franciscan habit – I drink the last of my White Castle coffee and check out my camera. I am ready to go. I'll return to the office a little later to put my feet up and rest awhile before the next hourly match.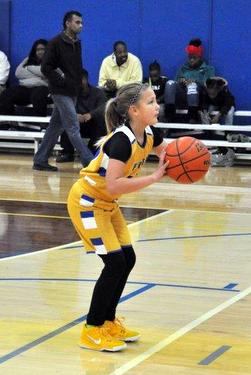 As I enter the main lobby, there are tons of parents and kids coming and going. With the game over, the next game begins. This is the pattern for the next 10 hours. Most of my time is spent taking photos of the kids "in action," and visiting with their parents. One cannot spend a lot of time visiting with them because they're all screaming and cheering on their team.
I thank them for being here for their kids and encourage them to continue the cheers. It is so important for people to be cheered on, affirmed, and told they are good. So I do that with the families and they, in turn, do it with their kids.
When I first arrived at Friars Club in September of 2014, I was asked what I wanted on my business card. Since a big part of my being here was to be a "Franciscan presence,' it seemed only right that my official title should be, "The Friar" at Friars Club. Being present to those who come here – Catholics, non-Catholics and, probably some non-believers – is important. They need to know that they are welcome and that it is great to have them here. And, I find, they seem to like my being around to offer a handshake here and a smile there, an affirming hand on the shoulder and a "How are you doing today?" They are little things that I think, or at least hope, make a difference in the lives of the people who come here.
Friars Club has many great people who make a difference in the lives of our kids. Our coaches practice two nights a week with the kids and are at their games on Saturdays. They are the ones who instill our Friars Club values of Respect, Responsibility, Leadership and Good Sportsmanship in the children who come here. Our Education Administrator, Tim Taylor, coordinates the 32 volunteers who tutor our 35 Friars kids who need to improve in school. Parrish Ozias, who coordinates all of our sports programs, is a master at scheduling. Annie Timmons, the Executive Director, has dedicated her life to the kids. Each one of these folks is a positive influence to all we serve at Friars Club.
Part of a team
Four years ago I had no idea what I was getting into when I moved here from our retreat house in Pennsylvania. I knew that Friars Club had a new building, that it had been 25 years since we had a friar on staff – although some had served as chaplains since then – and that Annie needed help. It was a good decision to be "The Friar" at Friars Club. We have great kids who will only become greater and a dedicated staff, volunteers and generous benefactors who continue to support us. We are blessed.
Let me close with a story. Two years ago our Junior Dribblers, grades K, 1st and 2nd, were playing a game. Usually the scores are low and when a child does score, everyone in the bleachers cheers them on. A little girl dribbled down the court, shot and scored. The place went wild. The players raced down the court and took their defensive positions. The coach noticed that only four of the five teammates were in position. Where was the fifth player? Instead of running down the court, the little girl who scored the basket was running toward her mom in the bleachers to receive a big hug. Then she ran back to be with her team.
That is what Friars Club is about: giving people hugs; telling them they did a good job; encouraging them to be the best they can be. We all need someone to be present who believes in us and calls us to greatness. That is what I try to do; that is what all of us at Friars Club try to do.
________________________________________________________________
Help us celebrate
Save the date: The 46th Annual Community Dinner, a major fund-raiser for Friars Club, is Friday, April 27, in Cincinnati. Cocktails at 6 will be followed by dinner and an awards program. For more details, contact Ben Klayer at bklayer@friarsclubinc.org.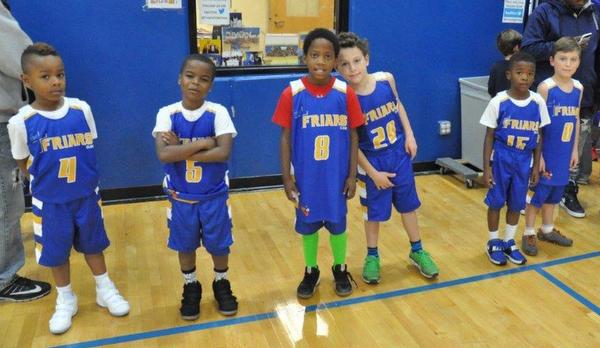 ---
Posted in: Events, Missions, Newsletter, Prayer, Saint Francis, Senior Friars