Lost rings keep St Anthony very busy.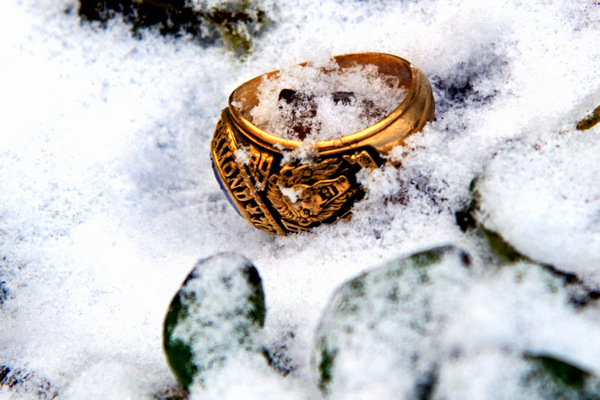 St Anthony and the Rings
~
When I was in high school, I had my boyfriend's class ring on my bracelet during a basketball game. I took it off because it was hurting my finger when I clapped for our team. When we got off the bus back at school to go home, I realized that my bracelet and the ring were not on my wrist. He had asked me to take good care of it when he gave it to me and I was devastated! I couldn't find it anywhere that night, but prayed to St. Anthony a lot during the night (and it snowed all night long). The next morning I went back to school to continue my search. As soon as I got there I saw his ring ON TOP OF THE SNOW right next to the building!!!
Many years later, I realized I had lost the diamond setting out of my engagement ring one morning during classes at college. I had been in at least 3 different buildings that morning, most of which had marble and terrazzo floors which made it doubly hard to search. But I kept praying and retracing my steps. I went back to the room where Sr. Georgiana was teaching French. I interrupted her for a second, in tears, and asked if I could look near the chair where I had been sitting – and there it was!!!
--Berny
We'd love to hear your St. Anthony story too.  Use our Contact Page or Email: shrine@franciscan.org or Call Colleen Cushard at: 513-721-4700.  Share your prayers with us and our online community at our Prayer Page.  You can donate to St. Anthony Bread or any of our ministries at our Donation Page.
---
Posted in: Newsletter, Prayer, Saint Anthony