Mourning Las Vegas
Facing the unthinkable
~
Last week our Communications Director Toni Cashnelli gathered videos and statements from our friars in response to the shooting in Las Vegas that left 58 people dead and 489 wounded.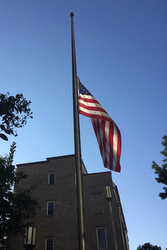 We began this week with yet another, deadlier mass shooting, one of the worst ever seen in this country, if not the worst. The perpetrator was a man who raised no red flags beforehand among his family and friends. We will likely never know how such violent acts could be conceived and nurtured within the human heart.
As you read these responses and reflections from our friars and other church leaders, bear up in prayer our fractured country, divided in so many angry ways. Pray too that the spirit of St. Francis, whose feast day occupied the middle of this painful week, will find real and persuasive expressions in a time when we need his gifts the most. "Blessed are those who endure in peace, By You Most High, they will be crowned."
--Fr.  Bill Farris, OFM, Provincial Vicar
We friars of St. John the Baptist Province extend our deepest sympathy and promise of prayers for the victims of the mass shooting in Las Vegas.  This senseless act of violence affects all of us. We, the people created from the wounded side of our executed Jesus, ask for healing for those who have been wounded, for the families and friends of the murdered, and for a change of heart for all who choose violence. May the families of those hurt in any way receive comfort and courage from our Risen Lord.
--Fr. Mark Soehner, OFM, Provincial Minister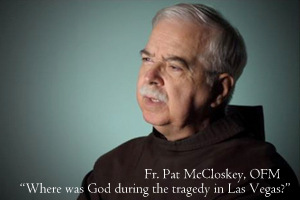 "When innocents are killed, some people find that to be a great challenge to faith. I don't think we should let their deaths make us more bitter people."
--Fr. Pat McCloskey, OFM, in a video blog for Franciscan Media "Where was God during the tragedy in Las Vegas?"
Since the latest mass shooting that just took place in Las Vegas, I'm personally aware of a growing sense of fear. Not for my own safety, no, but for what might be happening to us as a country. The script is becoming all too familiar and, unfortunately, all too predictable as well.  Something horrendous happens and captures our national attention for a little while as various notables mouth the same text: Our thoughts and prayers are with the (fill in the blank).
What's worrying me the most about this is that there seems to be an absence of true mourning.  Flying the flag at half-staff for a few days is indeed a start but more akin to someone wearing black at a funeral; a pro forma gesture. Dr.  Alan Wolfelt, an expert on grief and mourning, has this to say: "We all grieve when someone we love dies, but if we are to heal, we must also mourn.
I remember attending an interprovincial gathering up at Siena College which began the day after the Orlando shooting in 2016. Upon my arrival I looked around for some outward sign that the tragedy which had just taken place had in some way registered there, 1,200 miles away.  Eventually it made its way into our intercessory prayers that week, but I remember feeling as if something else was sorely missing as we went about our business, something outward and more manifest.
I'm thinking about that haunting poem of W. H. Auden right now which says, in part, "Stop all the clocks...let the mourners come."
--Br. Al Mascia, OFM
As I was sleeping Sunday night I kept hearing news notifications on my phone and thought something must have happened. On Monday morning I checked and saw the sad news. It was shocking. I immediately prayed for the dead and the injured and then we prayed for them at Morning Prayer and Mass. One thing that struck me was the display of evil by one and of heroism by so many others. Many more lives were saved because of the good people on the ground. Not all the facts are in yet on what was going on in this individual's mind.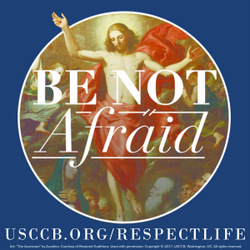 If people/authorities were able to read other's minds some of these acts could be prevented, but that is not the case. Demonstrations of evil are a hard thing to swallow. God, have mercy.
--Br. Mark Gehret, OFM
On the first day of October, we marked Respect for Life Month with its theme of "Be Not Afraid", and we face the unspeakable once again.  This past year has been overrun with an inordinate amount of uncertainty, suffering, heartache, and tragedies in the public eye and in our personal lives.  There's no shortage of reasons we cry out to God.  May God give us peace!
--Fr. Francis Tebbe, OFM
Shock, horror, disbelief, overwhelming sadness. Then I ask the question, what are we doing in this nation about mental health? Our nation is crying out for mental health reform.
--Br. David Crank, OFM
Lord have mercy on your children. We are broken and need your love. Mend our hearts. Remove hatred. Give us eyes to see as you see. Ears to hear as you hear. Hands that are open to one another and hearts for compassion.
--Fr. Clifford Hennings, OFM
Most everyone is horrified, myself included.  Because our access to news is somewhat limited, we don't know all the details.  Nobody from outside the country has spoken negatively about our country or culture.  No one has offered condolences, either, but it has been mentioned in our prayer. Most of the U.S. folks seem to be of the same mind and lament that we are not doing more to control guns, kind of like "here we go again," and it just seems to get worse each time.
--Fr. Jeff Scheeler, OFM, from a pilgrimage in Italy
We need a lot of prayers, and prayers with good works. Oftentimes we pray but don't have the answers, and perhaps one of the answers to this is that we should look very closely to the mental health problem. Perhaps a nationwide hotline could be set up where a person who may be going through this situation will be able to call and ask for help.
--Fr. Robert Seay, OFM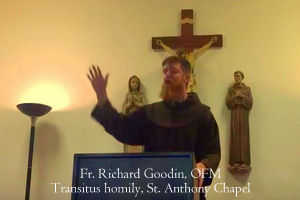 In this little chapel tonight we recall the death of someone important to us.  …Francis of Assisi, such a towering saint of the Catholic Church – you can't help but smile at the mention of him.  But there are plenty of chapels, churches and funeral homes in Las Vegas and around the country tonight where smiles are non-existent and hearts are beyond heavy.
The contrast between a life well lived and a great many lives cut way-too-short is the reality of our evening.  Historically we remember a saint who died gracefully after a long battle with several illnesses.  And presently all of humanity mulls over how one man could surprise-attack so many utterly innocent people.
With that acknowledged, let our prayer and reflection tonight hold the saintly and the victim together – as difficult as it may be.  But let us not allow such senseless violence to overshadow the great witness of Christianity's saint of peace.
--Fr. Richard Goodin, OFM (from his Transitus homily, St. Anthony Chapel)
My take is that, for most folks, the USA is a faraway place and most Jamaicans pay little attention to it. No one expressed sympathy or even commented on the event unless I mentioned it. Most Jamaicans are not deep into following things American. People here are very myopic—well, the ordinary people who have no money or connections in the U.S. Ms. Yvonne, our cook, told me at Mass this morning that there was another shooting in Red Ground last night. Her nephew was brutally murdered about six weeks ago in Red Ground. The violence here, in Negril and the country, continues to escalate with gunmen shooting people right and left. Here it is one at a time, not 58 plus hundreds wounded. So, simply put, most folks here are focused on the ongoing murders and have little time to care about what is happening in the USA.
--Fr. Jim Bok, OFM, missionary
Share your prayers on our Prayer Page. God bless you.
+
---
Posted in: News, Newsletter, Prayer, Saint Francis