New Vocations team
The two new faces in the Vocation office are Fr. Page Polk, OFM, Director of Vocations (left) and Fr. Richard Goodin, OFM, Assoc. Director of Vocations (right).  The Vocation office is located on the grounds of the St. Anthony Shrine in Cincinnati, OH.
Fr. Page hails from Dallas, Texas while Fr. Richard was born and raised in Lebanon, KY.  Yes, there is an abundance of that wonderful "southern drawl" in the Vocations office now.
Fr. Page also serves on our Provincial Council.  He recently served as part of an Inter Provincial team of three asked by the seven Provincial Ministers to research the process for revitalizing and restructuring Franciscan life in the United States.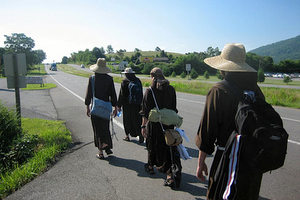 Fr. Richard served at Holy Family Parish in Galveston, Texas prior to coming to Cincinnati in July.  When Richard was in formation and ready to take his vows, he was one of the four friars that came up with the idea of the 300 mile walking pilgrimage to the Franciscan Monastery of the Holy Land seeking to emulate the wanderings of St Francis.   It's a great story if you have not read it yet.
Both men are filled with enthusiasm and wonderfully creative ideas.  They are available and eager to speak with and answer questions for anyone interested in becoming a friar.
"We want to measure success not by number of accepted applicants but by the quality of our pastoral care of all the men who contact us who need help discerning God's call in their lives.  And when God does call one of them to become a friar minor-boy, oh boy are we ready to help them do just that!" says Fr. Richard.
Welcome Fr. Page and Fr. Richard.
---
Posted in: Newsletter, Prayer, Saint Francis, Vocations