Prayers For A Blessed Lenten Journey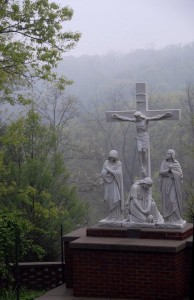 At the Shrine, we are praying that your Lenten path will be one marked by growing closer to Our Savior.  We will have daily inspirations on our Facebook page.  Franciscan Media offers many resources for personal and family growth.  We've compiled a list for your convenience.  May your journey through Lent to Christ's Resurrection on Easter be a blessing to you and your family.  Share your prayers with us for your hopes this season.
Online Event - Lent with Fr. Don Miller, OFM
Fr. Don will help you make the most of Lent by explaining not only the "rules" but the deeper call to conversion.  A live chat area will allow you to ask questions of Fr. Don during his LIVE Ash Wednesday presentation.  Franciscan Media's video with Judy Zarick will tell you more about it.
Lent with the Saints
With insightful reflections, Fr. Greg Friedman draws on his love of the saints to offer daily inspiration during this season of repentance, forgiveness, and hope.  We will post Fr. Greg's Sunday reflections on this blog.
Fast, Pray, Give: Making the most of Lent
Fast, Pray, Give, looks at Lent through the lens of discipleship, encouraging us to adopt practices that bring us more fully into an appreciation of the life, death, and resurrection of Jesus Christ.  Author Mary Carol Kedzia discusses her book in the Franciscan Media video.
Lent with St. Francis
The cross is at the center of the lives of both Jesus and Francis. It is the ultimate symbol of letting go of everything that gets in the way of a life lived for God and God alone. Take a fresh look at Lent with St. Francis as your guide. Author Diane Houdek shares this video about her book.
Wondrous Encounters, Scripture for Lent
Fr. Richard Rohr's meditations on the daily readings of Lent are not for the sake of mere information, or even for academia (although the author hopes it will satisfy both), but for the sake of our transformation into our original "image and likeness," which is the very image of God. What always and finally matters for all of us is encounter!
Franciscan Way of the Cross
Unlike any other Way of the Cross, the Franciscan Way of the Cross: The Peace Prayer by Teresa Baker, is framed not only by the Passion of our Lord Jesus Christ, but by the Franciscan Peace Prayer.
Visit Franciscan Media Books  to view all of their excellent books, DVDs, and much more.
---
Posted in: Lent and Easter, Prayer