Prayers to St. Clare answered
Thank you for praying the Solemn Novena to St. Clare of Assisi with us which culminated on her feast day Sunday, August 11.  Below are comments from a few of the people we heard from after the novena.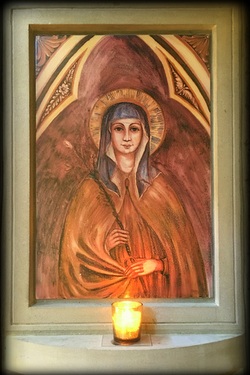 Dear Friars,
My husband had an X-ray of his lungs. The doctor saw something unusual on the X-ray. I prayed very hard that further testing would prove that whatever it was, it was not serious nor was it cancer. St. Clare heard and my prayers were answered. It was nothing and he only needs an inhaler. Thank You St. Clare!
Peace be with you all.
P
Dear St. Anthony Shrine,
My written intention was for employment for me. When I prayed the novena my intentions were not just a job but for help for two of my adult children who are struggling. Friday my daughter got a job!!!
Thank You, God!
C
Dear Father,
I prayed for my marriage and that we would work to help each other communicate more effectively and often. After leaving him for a period of time, I returned home yesterday and we talked about our struggles and agreed to help each other to be more communicative. It's not perfect but it's a step in the right direction.
Thank you for all your prayers and support. I am eternally grateful.
Peace and all good!
L
Dear Friars and Poor Clares,
No answered prayers, yet! However, I really liked this novena as I listen to it being read by a sweet sister's voice. It was not a burdensome novena with its length! Keep them all that way!
Thank you for including me!
God 🕊Bless🙏🏻❤️
C
Dear Franciscans,
Praise the Lord who answered my prayer through the St. Clare novena. I was in the situation of losing my job. On exactly the ninth day of the novena, God rewarded me a wonderful project. Praise St. Clare of Assisi for her miracles. Praise St. Anthony the guide of my whole life. Thank you, Jesus, for helping me and blessing my family.
Amen
S

Did you miss the Solemn Novena to St. Clare of Assisi? You can pray the novena anytime on our St. Clare Novena page.
Sr. Vickie Griner, OSC, of the Franciscan Monastery of Poor Clares read the prayers in the videos.
---
Posted in: Prayer, Saint Clare