Spartan living in Africa
Br. Tim Lamb, OFM from this Province lives at St. Anthony Friary and serves as Secretary of Formation and Master of the House of Theology for the Province of St. Francis in Africa, Madagascar and Mauritius. He lives in Lang'ata, Nairobi, Kenya. It is very spartan living.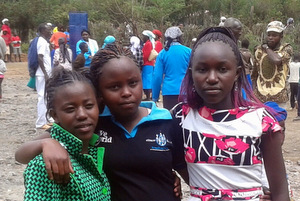 The 24 friars in the community share two cars. The electricity goes out on a regular basis and they wash their clothes by hand. Until very recently many of the friars were walking to and from school. Thanks to a grant from the Franciscan mission office, they were able to purchase 15 bicycles.
"We are not short on needs here. This is partly due to the places we have chosen to serve. We target isolated and poorly developed villages. The people in the parishes we serve support the friars, but in food stuff, very little by way of cash. We have to depend on the kindness of our benefactors", writes Brother Tim.
Some of those needs are as follows: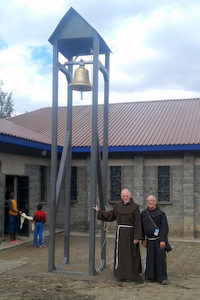 • An addition to the present building. They are expecting 8 additional friars in August and currently only have room for two more.
• A generator which would help monitor and maintain electricity for essential things like the water pump for the bore hole (well) and refrigeration for food. This generator would also prevent damage to electrical equipment in the house due to fluctuations in power which accompany any power outage, which happens at least once or twice a week.
• A new (used) truck for shopping and hauling.
• 2 green houses to provide on-going vegetables for self-sufficiency .(There are two growing seasons, but year round pests, (insects, birds and rats) make growing out of doors difficult.
In Subukia, Kenya the friars have been instrumental in building a water supply for the area, built a medical dispensary, an orphanage, housing for internally displaced persons due to armed conflicts, and a residential high school. This is very typical of the work of the friars.
The cost to sponsor one student friar is roughly $3,000 US dollars per year. Brother Tim's goal would be to find sponsors for all of the friars in formation. There are about 98 friars in initial and priestly formation. Each sponsorship would include pictures, a biography and regular updates from your friar. Would you like to sponsor a friar in Africa? Could a group you belong to sponsor a friar?
Would you like more information about how you can help our efforts in Africa?  Email friarworks@franciscan.org and we can get you connected to Br. Tim.  Keep up with Br. Tim on a regular basis through his blog, Omnes donum est.
.
See more photos of Br. Tim and his ministry on our Flickr page.
~
---
Posted in: Missions, News, Newsletter, Prayer, Saint Francis, Vocations