St. Anthony found my diamond earring
He kept my earring in a safe place
I work for a large pharmaceutical retailer. On any given day, I can be assigned to any store in the greater Cincinnati area. I always wear small diamond stud earrings. Just over a month ago, I was at work and realized that one of them was missing. While looking around all the areas of the store I had been that day, I said, as I always do when I lose anything, "St. Anthony, St. Anthony, please look around, something is lost that must be found."
Unfortunately, I didn't find my earring that day; however, a week later, I was to be back at that same store. On the way to the store I thought, "Maybe St. Anthony has found my earring by now."
As I was sweeping the floor getting ready to close, I noticed something really shiny just under the edge of a cooler.
Sure enough, it was my earring! I am sure that St. Anthony had found it for me and had put it in a safe place, somewhere I would see it when I came back to the store.
Carol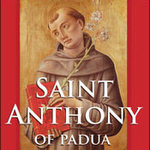 We'd love to hear your St. Anthony story too. Use our Contact Page or Email: shrine@franciscan.org or call Colleen Cushard at: 513-721-4700. Share your prayers with us and our online community at our Prayer Page. You can donate to St. Anthony Bread or any of our ministries at our Donation Page.
---
Posted in: Prayer, Saint Anthony