St. Anthony story from one of our own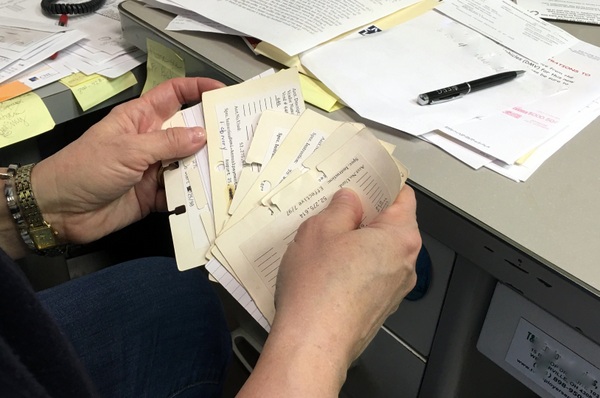 "Bless St. Anthony, I just love the way he works in my life."
I am the accountant for the province and many of the financial records I deal with are on a recurring monthly basis. Some of this monthly information is kept on index cards that have been passed down to me from previous accountants, records going back for decades. Every month, on the 25th, I take out those cards from my file box and write checks or other tasks pertaining to them.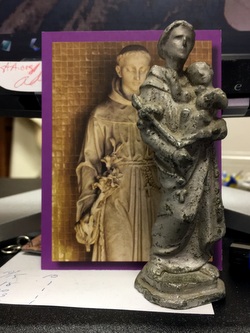 A few months ago, on the 25th, I went to my file box but they weren't there. That's when I remembered that the last time I saw the cards I was holding them as I was leaving the office and just threw them on my desk. My mother has a very strong devotion to St. Anthony, so I find that if I ask for his help by invoking her, he is especially responsive.
Kind of half-heartedly I said, "Oh, for heaven's sake. St. Anthony, my mom says you can find anything, will you please help me find those cards?" and looked around my desk again but, no cards. Because I had to get the checks out that day, the 25th, I spent a great deal of time finding the information through other sources.
Over the following weeks I searched everywhere. Every drawer, every file, every stack of paper, even in cabinets I rarely use but those cards did not appear. When the 25th came around, I again had to spend more time finding the information for the checks.
On the 20th of the next month, when the cards still hadn't appeared, I realized that I may need to recreate a whole new set of cards which would be very time consuming. I emphatically said out loud, "St. Anthony, if you are going to help me find these cards it needs to be now." I stepped away from my desk for a minute. When I got back to my desk, my eyes went right to a funny bump-up of my desk calendar, I picked up the edge of the calendar and there were my original set of cards!
Thank you St Anthony!
Margot

We'd love to hear your St. Anthony story too. Use our Contact Page or Email: shrine@franciscan.org or call Colleen Cushard at: 513-721-4700. Share your prayers with us and our online community at our Prayer Page. You can donate to St. Anthony Bread or any of our ministries at our Donation Page.
---
Posted in: Prayer, Saint Anthony