Celebrating St. Anthony's Feast Day
The weather on St. Anthony's Feast Day, June 13, didn't exactly know what it wanted to do.  It tried out a variety of its styles from gray and humid to downpours and comfortable sunshine.  But no matter how it presented itself, pilgrims came to honor him by the bus load. They came for one of two services and a mass after which the faithful were blessed with a precious first class relic of St. Anthony, a relic that came directly from his body.
One group of Shrine visitors that day, had an extraordinary devotion to St. Anthony.  An estimated over 300 pilgrims, Chaldean-American Catholics from the Detroit, Michigan  area came in buses and cars to feel as close to the Franciscan saint as possible. Motor City has the largest hub of the ethnic group outside of Iraq.  According to the 2010 census, there are more than 400,000 Chaldeans living in the United States, the largest outside of Iraq.  Their roots are from the ancient biblical geographic area of the Tigris and Euphrates Mesopotamian/Babylon region.  Since the 1970's people from Bagdad, Iraq and the surrounding area have immigrated in larger numbers to America seeking political and economic freedom. Most have become American citizens.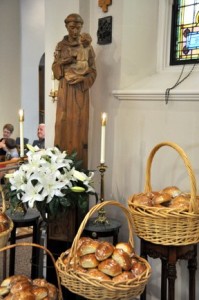 "God is for all!" says Naival Jabiro, 70, who has been in the U.S.for three years.  She and her friend Baskra Potrus, 68, are members of St.   Joseph and St. George churches in the Shelby Township Detroit area.  This was the third year Naival made the trip from Michigan.  She had a remembrance, St. Anthony Bread, tucked in her swollen purse.  This is the traditional way St. Anthony is remembered in the celebratory service.   Each participant is given  a small round loaf of bread, reminding us to do as he did to feed the hungry poor.   Naival showed her palm-size Arabic prayer book, the one she uses each day of her novena.   "I fast every Tuesday, not just for the novena, and pray the rosary.  I never miss it," she confided. Baskra was beaming because she is so happy to be in America and able to honor Saint Anthony in this way.
Naival is eager to explain, "St. Anthony made a miracle for my cousin who was so sick with cancer and we weren't given much hope for him.  His disease was all over his body.  We prayed so hard!  When the doctors came after the surgery, they said there wasn't anything to operate on.  He was cured, we believe!"
The Friars at St. Anthony Shrine receive many pleas for prayers.  The bulletin board has notes from the faithful all over the country.  They ask for tangible and intangible favors...a positive diagnosis after a double mastectomy, support dealing with a disturbed man, finding an apartment, return of good health, end of homelessness, job in jeopardy, difficult pregnancy, harassed at work, acute leukemia and more.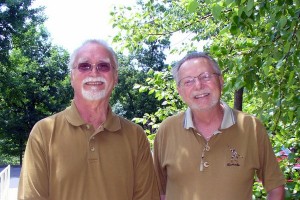 John Curley and his friend Ed Peters drove from Fairfield,Ohio to see what the celebration was about.  John saw a piece in the Catholic Telegraph Register, the Archdiocesan Newspaper, about the end of the traditional nine week Novena and celebration of St. Anthony's Feast Day.  Driven by memories of his mother Stella Curley who died in 1952, who had a great devotion to the St. Anthony, he decided to find out for himself what it was all about.  He said he didn't have a big devotion to St. Anthony but admitted he sought help from him whenever something was lost. Ed said he came for the ride but could see the seriousness of the crowd and how intense their devotion is.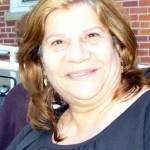 Anwar Shayota of Macomb County, Michigan, sat in a circle of Chaldean women travelers soaking in the first sun of the day. The women sang an Iraqi chant that is one of four traditional celebratory prayers usually sung at an event. The one they sang that afternoon was to honor the Blessed Mother.
Anwaar loves St. Anthony deeply and believes her ten year old daughter Angelica is a miracle from him.  She became emotional when she disclosed that she lost three babies followed by years of infertility.  She was moving into her late thirties and her doctor gave her little hope. She told him, "'You wait and see!'  I never gave up faith that I would be given a child."  She, too, fasted on Tuesdays, said the rosary and pleaded with the Saint to bless her and he did!  "My daughter is like her name, an angel."  Anwaar came to the U. S. in 2001 and became a citizen in 2010.  "We are proud to be Americans," she stated in a confident tone of voice. "It took me nine years to get through immigration but St. Anthony helped again."
---
Posted in: Uncategorized