The decisions of our lives
One sure sign of growing into maturity is the willingness and ability to "take responsibility for our choices in life."  Obviously, all of us are influenced by many circumstances, some of which are beyond our control. But as a young person grows year by year, there is an expectation that quick and easy excuses ("oh, I just forgot, etc.") are no longer acceptable in a family. This maturity can differ from case to case but there comes a time and an age where the parent, and even society, say frankly, "No more excuses."
There is no question that in the eyes of a young person, still under the guidance of parents at home, older children seem to have a lot more privileges. That's true … but it is equally true that with privilege also comes the obligation to be accountable for our choices and their consequences.
That's why for most young people a driver's license is seen as the ultimate gift of freedom.  I remember when I turned 13, my dad used to allow me to "start the car." Wow, what power!!! But eventually when I got my driver's license at 16, I had arrived!! But, of course, that was just the start to growing up.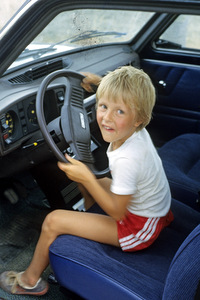 Depending on circumstances, many would say that the transition was fairly smooth as we became aware that life is not always simple. Most teenagers try to find some kind of employment during the summers in high school. And as we grew older, we were in situations where we had to make more serious and responsible decisions in our lives. And in a sense once we faced those necessary decisions we knew there was a price to pay if they were bad choices.
The word "decision" itself is an interesting one since the word comes from the Latin "Decidere." It means "to cut or to separate." And the implication, of course, is that once you make a cut, a decision, you can't "uncut" or "undecide." It's done. That is why, when people must make serious decisions with serious consequences, they often seek advice or counsel. Talking an issue over with another trusted person can help clarify one's thinking when an important factor involved was not noticed until someone else caught it.
Now, considering the gospels and Jesus' public life and ministry , we come to the realization that Jesus experienced, time and time again, a need to make decisions in his life, e.g. his choice of apostles,  or when to go up for the feast knowing he was facing a ton of criticism and personal attacks. The most significant choice he made was to follow his Father's plan that resulted in his passion and death. Luke tells us that in the garden, Jesus' sweat became drops of blood. Talk about pressure and tension and struggle!! But we know Jesus experienced his life in his human nature and not by just "floating through" his passion and death.
No one makes a perfect decision every time. We are prone to mistakes but can take some solace in the fact that even Jesus' hand-picked apostles were not mistake-proof or clear-headed in their decision-making. But that fact does put us in pretty good company when faced with our own decisions.
____________________________________________
Fr. Jim Van Vurst, OFM, has been a Franciscan friar for 64 years and a priest for 56 years. His background is in spirituality and psychology and counseling. He has published articles in St. Anthony Messenger, the Bible Today, and The Priest Magazine. Currently, he is assistant pastor at St. Clement Church in Cincinnati. On top of all that, he is just a really great guy!
If you would like to take advantage of Fr. Jim's expertise or just need to ask him a question, email jvvofm@gmail.com  All counseling will be confidential and done through email.
---
Posted in: Newsletter, Prayer, Senior Friars