The Mystery of Mercy
Fr. Larry Zurek, OFM, celebrates Pope Francis' Jubilee Year of Mercy in his talk, "The Mystery of Mercy"
~
When I returned home from being commissioned a Missionary of Mercy by Pope Francis on Ash Wednesday, on my door in the friary was a sign:
 
Welcome Home Mom - M.O.M. - Missionary of Mercy
~
I'm sure my brothers meant it as a kind of joke, and yet, our Holy Father Pope Francis reminded us in the talk he gave us before Ash Wednesday, to really be mothers to those who come to confession.  He said that,
"I believe this is a time for Mercy.  The Church is showing her maternal side. Her motherly face to a humanity that is wounded.  She does not wait for the wounded to knock on her door, she looks for them on the streets, she gathers them in, she embraces them, she takes care of them, she makes them feel loved."
Mercy, sisters and brothers, helps another person to remember who they truly are in the eyes of God.
Learn more about Pope Francis' Missionaries of Mercy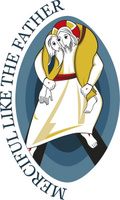 Next in the series:
Fr. Mark Soehner, OFM:
Wednesday November 2 at 7:00 PM
Previous presentation:
Fr. John Quigley, OFM
"Mercy – The Force of God Awakens in Us"
Watch the video
Learn more about how the Franciscans are celebrating the Jubilee Year of Mercy at Franciscan.org
---
Posted in: Events, Missions, Newsletter, Pope Francis, Prayer, Saint Francis, Vocations, Year of Mercy