A St. Anthony Miracle Indeed
Last May I traveled to Spain with my friends, Art and Laura, who had invited me to travel with them. We visited several cities in Spain via express trains, including Madrid, Sevilla, Granada, and Barcelona. When we were leaving Sevilla, I reached down to get my cell phone from my pocket. Immediately, I noticed that it was missing. In a panic, I went back to the train station to see if I might have left it at our breakfast restaurant, but alas, I couldn't find it and our train was leaving. I had no choice but to assume that I would never see my phone and its contents ever again.
Laura immediately called the taxi company that had delivered us to the depot, but they replied that they had not found any phone in the cab. She then contacted the owner of the Airbnb where we had stayed, but they also reported finding nothing.
I had said a prayer to St. Anthony to help me find my phone from the start, but by then I assumed the worst—that I would never see my cell phone again. We spent the next two weeks completing our itinerary. Then, right before we left for home, Laura was notified that the housekeepers servicing our rooms at the Airbnb had found my phone! Two weeks after I was home in Dayton, Ohio, the delinquent cellphone arrived safe and sound thanks to the efforts of Laura and St. Anthony.
—Richard S.
(Story courtesy of  St. Anthony Messenger Magazine.)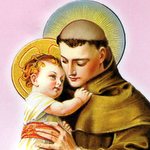 We'd love to hear your St. Anthony story, too. Use our Contact Page or send an email to shrine@franciscan.org or call Colleen Cushard at 513-721-4700. Share your prayers with us and our online community on our Prayer Page. You can donate to St. Anthony Bread or any of our ministries on our Donation Page.
---
Posted in: Saint Anthony