Blessings from St. Anthony
Grateful for the intercession of St. Anthony
Greetings to you,
I want to give praise to God for blessing me as I pray to him with the intercession of St. Anthony.
These are just a few of the blessings I've received when I called on St. Anthony:
- I find what is lost
- I find peace in everything I do
- I find favor and love
St. Anthony's intercession helped me reconcile with my husband of 23 years. We found our lost peace and quickly received a financial breakthrough that provided essentials for our home.
His prayers helped me obtain financial aid for my master's degree which allows me to work in my chosen career. My daughter has received a scholarship for law school, an answer to prayer.
I hope to travel to Rome and St. Anthony is working on finding the finances.
My mother fell with Covid-19 and is paralyzed. St. Anthony is restoring her health, and finding the money for treatment.
I am so grateful to St. Anthony!
Thank you,
Barbara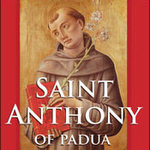 We'd love to hear your St. Anthony story too. Use our Contact Page or Email: shrine@franciscan.org or call Colleen Cushard at: 513-721-4700. Share your prayers with us and our online community at our Prayer Page. You can donate to St. Anthony Bread or any of our ministries at our Donation Page.
---
Posted in: Prayer, Saint Anthony