Br. Eric Seguin, OFM
What do you do when a book practically leaps off the shelf at you?  If you're Br. Eric Seguin, OFM, you do the practical thing and read it.  Br. Eric has known since the fourth grade that a religious life was his calling but he was also sensitive to God's timing.
The youngest of ten children, he grew up in Porcupine Ontario speaking both French and English.  The stories of his childhood pastor, a Capuchin friar who served lepers in India for thirty years, fascinated him.  Although Eric loved the brown habit and sandals, he then couldn't imagine himself as a Franciscan.  
After high school, Eric studied culinary and hotel management, a field where he worked for thirteen years. Every morning before heading home after his overnight shift, Eric attended Mass at Notre Dame Cathedral Basilica in Ottawa.  The same day he lost his hotel job because of cut backs, the job for the caretaker of the Cathedral was offered to him.  The five years at the Cathedral allowed time to pray and time to blossom and time to actively explore his options in religious life.  The fact that Eric had a religious vocation was evident to everyone but where he was to plant his feet wasn't.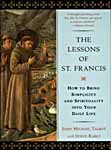 It was during a two-week retreat of complete silence at the Abbey of Saint-Benoit-Du-Lac, a Benedictine Monastery in Quebec, that John Michael Talbot and Steve Rabey's book, The Lessons of St. Francis: How to Bring Simplicity and Spirituality Into Your Daily Life, nearly leapt off the shelf at him.  St. Francis' Order of Friars Minor, men who live simply, love people and give all away for people and God, spoke to Eric.
A google search led Eric to our province's website and Vocations Director Fr. Don Miller, OFM, who quickly responded – a record 10 minutes – followed up by visiting Eric at the Notre Dame Cathedral, even concelebrating the Mass.  It didn't take long for Eric to realize that the Province of St. John the Baptist was home.
Asked about his possible path in ministry, he recalls when he was asked to speak to an elderly group 'off the cuff'.  He was very nervous, having prepared nothing.  "Speak from the Heart," was the advice from Fr. Bonaventure Bai, OFM, and speak he did.  With the Holy Spirit's guiding, his 'talk', lasted well over an hour, and left an impression both he and the audience haven't forgotten.  Yet he also knows the power of silence.  While visiting the elderly at a nursing home operated by the Little Sisters of the Poor, he learned how just being with someone, just one's presence, not necessarily words, can touch people deeply and kindle the glow of Christ in them and in him.  
Br. Eric and three other men made their 1st Profession of Vows a few weeks ago.  Today he is furthering his studies and living at the Interprovincial House of Temporary Professed in Chicago.  As he continues his journey with the Franciscans we pray for his continued openness to the wisdom of the Holy Spirit and courage to follow that path. 
---
Posted in: Uncategorized