Br. Gabriel sings Jesus the Lord

"Let all creation bend the knee, to the Lord"
~
The beautiful hymn, Jesus the Lord, by Roc O'Connor, SJ, has been sung by many choirs and soloists but this rendition by bassist Br. Gabriel Balassone, OFM, is truly a stand-out.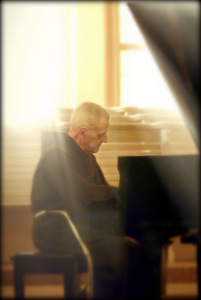 Recorded in 2014 at the St. Anthony Shrine when Br. Gabriel was a mere 81 years old, his deep voice expresses the song's prayerful message of the Paschal Mystery.
Susan Quirk, the pianist for the St. Anthony Shrine, a long-time friend and collaborator with Br. Gabriel accompanies him.
Other stories and videos about Br. Gabriel:
A Voice at St. Anthony Shrine - July 9, 2013
Working in harmony - March 2, 2017
O Holy Night - recorded December 2014
~
Jesus the Lord, (c) 1981, Robert F. O'Connor, S.J. And OCP, 5536 NE Hassalo, Portland, OR 97213. All rights reserved. Used with permission.
---
Posted in: Lent and Easter, Newsletter, Prayer, Senior Friars