Br. Michael Charron defending families
Friar student is getting grounded in real-life law
~
In the real world of lawyering, you put on a suit, go to court and try to resolve conflicts. That's exactly what Br. Michael Charron is doing this summer.
For Michael, a student at Appalachian School of Law, interning with Judge Amy Searcy has been a revelation. Since May he has assisted with cases at the Hamilton County Court of Domestic Relations in downtown Cincinnati. After one year of school Michael is immersed in the deep end of an emotional pool of litigation known as family law. The atmosphere in child custody hearings, divorce proceedings and domestic abuse cases is so intense that boxes of tissues are standard issue at tables for both plaintiffs and defendants.
Fortunately, "I'm pretty good at containing my emotions," says Michael. After a rough day he goes home to the community at St. Clement. "If friars ask me, 'What did you do today?', I'll say, 'We had a hard case.'"
It's a learning experience for both the friar and his boss. This is Michael's first internship, and "I've never as a judge had an intern before," says Amy, appointed to her post by Gov. John Kasich in May 2014 and elected to a full term that November.
But they have a lot in common: Both of them are grounded in prayer.
Asking for help
For the past two years Amy has worshipped with friars and the community at St. Anthony Shrine in Mt. Airy. Most weekdays she's there before work for the 7:30 Mass. "It starts my day when I'm focused on asking God to help me take care of folks," she says. "As I enter this courtroom, with its sadness and upheaval, if I come in centered and grounded, I'm reminded I'm not here alone."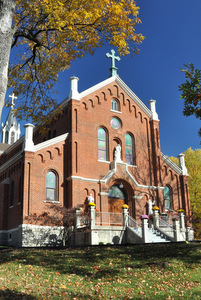 One day in the Shrine parking lot, Fr. Frank Jasper asked if she would consider taking Michael on as an intern. She answered, "Absolutely", and later admitted that part of her motive was selfish. The Judge is pursuing a Master of Arts in Theology from Franciscan University of Steubenville, Ohio, and thought, "Michael can help me with this."
But first he had to look like a lawyer. "Not my favorite part of the job," he confesses, walking through the gold-plated doors of the Art Deco courthouse – it's the old Times-Star building – and flapping the lapels of the dapper gray suit he's wearing on this sweltering summer day. Before he arrived, "I kind of expected a more formal atmosphere," having spent his first year in law school dealing with Contracts, Property, Civil Procedure, Torts and the like. But in Domestic Relations Court, "You're not dealing with a contractor who didn't fix a roof right," Michael says. "You're dealing with people."
The typical intern is a writer, researcher and observer. "I started out watching everything going on and learning the different departments," he says. Adds Amy, "It's not just to help me. Seeing how a judge makes decisions should make him a better lawyer."
Children first
After three months at the courthouse, "I see that family law and ministry kind of go together," Michael says. "I'm really impressed with Judge Searcy's understanding that people are people; they're not used to being in a courtroom. I feel like she's a really good servant. She kind of puts herself in their shoes."
Those shoes belong to people of all cultures, faiths and economic backgrounds. Whatever the issue, "Nobody in the court system is happy to be here," says Amy. "I call the courthouse 'The House of Pain'." Many cases revolve around kids, and "I'm required to make all decisions in the best interests of children." Whenever possible, "That means letting people come to their own conclusions." To make that happen, "You have to take a step of faith toward each other."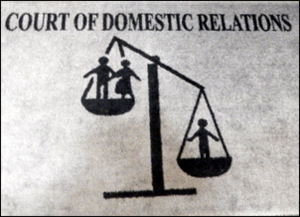 There is no typical day in court. "We try to have hearings Monday and Tuesday morning," she says. "Tuesday at 1:30 I do sentencing. I might send someone to jail" for non-payment of child support. "Wednesday and Thursday are custody trials. Friday we do overflow or write decisions. I take a lot home."
Summers are always busy. "There are kids visiting one parent who don't want to go home. And lots of people move in the summer when one parent gets a job offer out of town." Hard to believe, but "I've had people fighting over payment for dental work or whether a kid can go to camp." She has heard her share of shouting. Recently after letting a couple vent, her response was, "Do you hear what you just said?" On days of high drama, "I compartmentalize. I'll take all the sadness and pain and hurt and put it in a box – then make a decision. Personally, I have to increase my time in prayer at home."
Defusing disputes
A trial is the last resort once you've exhausted every other option, she says. That's why the Dispute Resolution Department was created – to give folks room for discourse in a neutral atmosphere before a third party. "The mediator has to say, 'What you're saying is valid; now listen to what he's saying." After sending Michael to several of those sessions Judge Amy discovered, "He has a skill set that lends itself to mediation and helps people resolve problems." In ministry as a friar, "That's something he could offer a parish."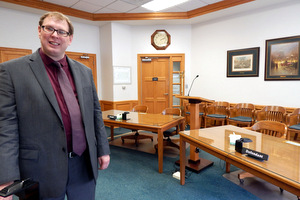 Michael finds it fascinating. "In mediation you have these couples who don't like each other. It's interesting to hear both sides of the story. When children come in, it's interesting to see their demeanor change."
Sitting at trials, he has seen the best and worst in people. Some lawyers are less than scrupulous. And some parents choose winning at any cost – hiring a lawyer, going to court, spending a fortune – over the needs of their children. "Most people get married and have decent marriages," Michael says. "Some get divorces and do that amicably. There are people who end up here. I tell myself these are the exceptions rather than the rule."
Does being a friar make him a better intern?  Humility helps, he says. "I don't think I'm better than anyone else. No matter how small a job is, they're all significant. I wouldn't think I was better than anything the Judge has asked me to do."
Lessons learned
This is Michael's last week at work; Monday he starts his second year of law school in Grundy, Va. Judge Amy hates to see him go. "I will miss him dearly: his calmness; his openness; his steadiness. I trust him to give his unbiased views. I could rely on him and know his reaction will not be judgmental or tainted with emotion."
After this summer "I think I'd be more confident in a courtroom," Michael says. "Every time I see lawyers arguing, I kind of think to myself, I don't know everything they're doing. But I think I'm capable of that."
This fall he hopes to take a workshop certified by the Ohio Supreme Court and become a professional mediator. "I could start mediating disputes right away," while he's still in school. In the future he intends to help marginalized people, whether that involves immigration, criminal defense or family law.
"I'll keep thinking and praying," he says. "I'm sure I'll land in a good spot." Part of being a Franciscan is "trying to make peace. Even though it's kind of forced in the courtroom, this is a place where peace is made. I think this is a good place for friars to be."
This story first appeared in the SJB News Notes August 10, 2017 by Toni Cashnelli
---
Posted in: Missions, Newsletter, Prayer, Saint Francis, Vocations