Christmas at St Anthony's Kitchen
While family and friends were back home freezing in Cincinnati, I was roasting my earlobes off on the hot and sunny Friday before Christmas. Kids and grown-ups were gathering to enjoy the annual Christmas party at St. Anthony's Kitchen.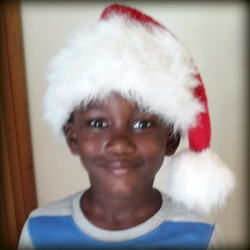 Ms. Pearl, the head cook and honcho, and the staff cooked up a special lunch for our clients; fried chicken, jerk pork and curry goat to be served with pasta salad and the traditional rice & peas. Christmas cake and sodas were on the menu too. We "shared out" (don't you love that Jamaican expression?) 250 meals.
Santa Claus arrived around 11:00. The children were excited and eager, knowing they were going to get a Christmas present. He did not let the kids down. Trying to keep them in the queue was a formidable task. Santa brought excitement and joy to about 150 children. For many, this would be their only Christmas gift. And Santa had a rude awakening. I don't think he was expecting such a climate change from Columbus, Georgia—ah, I mean the North Pole. He was totally and absolutely saturated and exhausted when he headed back to his sleigh.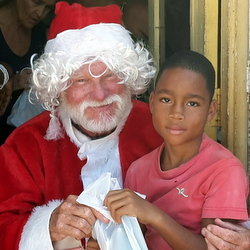 The Rotary Club of Negril, wonderful collaborators with us, provided 120 bags of groceries which included a chicken, rice, peas, flour, sugar, cornmeal, cooking oil, various tins of food, milo, cookies, and more. These groceries provide a fantastic Christmas treat beyond the means of most of our clients.
We have a lot of outreach in the Negril community in which we assist the poor. But on this one day in the year there is a certain "electricity" in The Kitchen yard. The special meal, Santa and his gifts, a plentiful grocery bag and some very evident love of neighbor all work together to make Christmas at The Kitchen a truly holy day.
One profound blessing of this holy day and every day of the year, is the awesome support of many benefactors. Without benefactors—well, there would be no Santa at The Kitchen, no grocery bags, no St. Anthony's Kitchen, no Get Kids to School program, no help with medication and medical exams…and I could go on and on. God bless our benefactors with peace and all good this year!
Visit them on Facebook at St. Anthony's Kitchen.
---
Posted in: Advent and Christmas, Jesus, Missions, Newsletter, Saint Anthony, Saint Francis