Fr. Casey Cole is back with a new book
After his very successful first book and nationwide tour Br. Casey, now Fr. Casey is back! And he has written another book published by Franciscan Media!
Let Go releases in January and is available now for pre-order."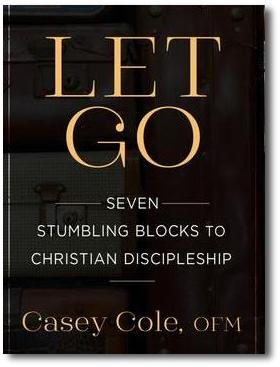 While we could all be less dependent on money and possessions, many of us carry far heavier burdens. Let Go places you at the feet of Jesus to ask this question: "Lord, what must I do to inherit eternal life? What is getting in my way of following you unreservedly, of handing myself completely over to your will and being your disciple?"
Currently, Casey is the campus minister of the Catholic Center at the University of Georgia. Even with the extra demands on his time since his ordination, Fr. Casey still works extensively on social media, evangelizing and catechizing through YouTube videos, podcasts, and blog posts. Visit Breaking In the Habit.
In Fr. Casey's first book, Called: What Happens After Saying Yes To God, he reflects on realities that are common to anyone who is serious about living a sincere Christian life and trying to follow the message of Jesus in the Gospels.
Franciscan Media is a sponsored ministry of the Province of St. John the Baptist.
---
Posted in: Prayer