Grateful for St. Anthony help as mom ages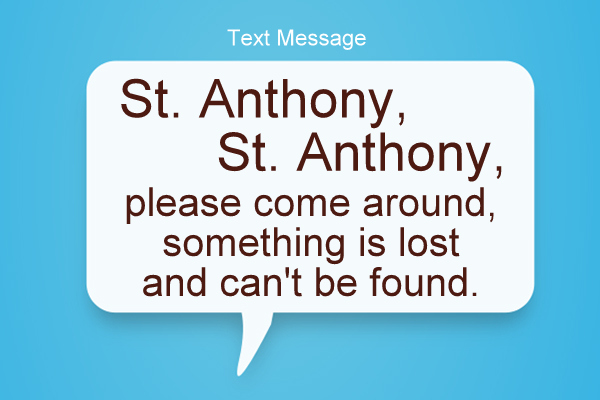 Denise sent us not one, but two, St. Anthony stories.
Dear Shrine staff,
Today was the second time my 98-year-old Mom lost her expensive hearing aids. My two brothers were searching all over her small condo for them to no avail. I'm in Florida but I texted the St. Anthony prayer:
"St. Anthony, St. Anthony, please come around, something is lost and can't be found."
A few minutes later my brother texted me a picture of her hearing aids. She had placed them in a tissue in her dresser drawer. I was SO grateful he heard my prayer. And the tissue was folded up so my brother really had to search for the hearing aids.
Denise
Then a few months later we received another email from Denise:
Shrine staff,
Here's another St. Anthony story. My Mom lost her glasses yesterday. Today my brother and I searched everywhere and I recited the St. Anthony prayer. I looked in one of her drawers and she must have put them in a plastic bag. My Mom and brother were sitting on the couch and as I approached them I said, "St. Anthony, St. Anthony!" And my brother said, "Oh Denise, don't start that again."
He didn't see I already had the glasses in my hand. I said, "Paul, look!" He was shocked, asked me where I found them. So I said, "Don't ever doubt the power of St. Anthony for helping to find lost items."
At my Mom's age it's happening more and more, I think if I didn't have St. Anthony helping me to find her lost items I'd go nuts! :)
Denise

We'd love to hear your St. Anthony story too. Use our Contact Page or Email: shrine@franciscan.org or call Colleen Cushard at: 513-721-4700. Share your prayers with us and our online community at our Prayer Page. You can donate to St. Anthony Bread or any of our ministries at our Donation Page.
---
Posted in: Prayer, Saint Anthony