Hurricane Ida Relief Fund
Friarworks Co-Director Fr. John Bok relays an urgent message for help for the victims of Hurricane Ida. 
Dear Friends,
Fr. Joe Hund, pastor of St. Mary of the Angels Church in New Orleans, was able to provide an update about the Hurricane Ida aftermath there:
All the friars are well. The major issue is that the entire city of New Orleans is without electricity and many are without clean water. Local officials are estimating that power won't be restored for three weeks because a major tower was knocked into the Mississippi by Hurricane Ida.
As with the aftermath of Hurricane Katrina, the friars are doing all they can for the people of New Orleans. Please continue to keep the people affected by Hurricane Ida in your prayers.
If you'd like to help the victims of Hurricane Ida, you can make a donation on our website and specify in the "Comments" section that you'd like your offering to be used for Hurricane Ida relief: StAnthony.org/donate-to-franciscans
Thank you for your prayers and support.
May God bless each and every one of you.
Fr. John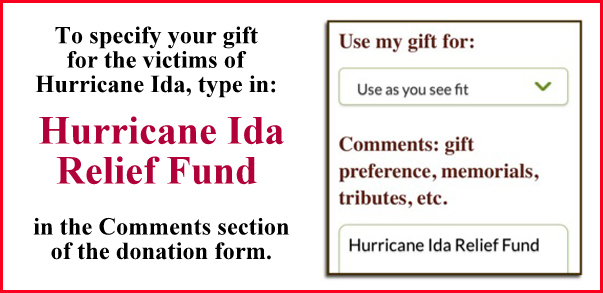 ---