Jubilarians 2018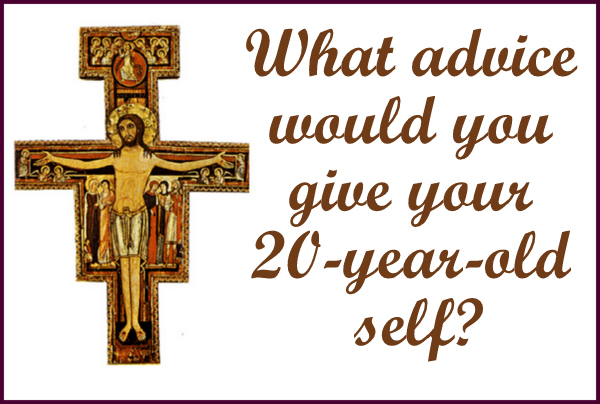 Br. Michael Dubec, OFM
50 Years Profession
Be sure to thank people you meet along the way honestly and sincerely for the small things in life.
Fr. Robert Weakley, OFM
50 Years Priesthood
Follow your dream! God will guide you and take you to the unknown and unexpected. Don't give up.
Fr. Dan Anderson, OFM
50 Years Profession
You're not irreplaceable, but you're invaluable.
Fr. Cyprian Berens, OFM
75 Years Profession
1. The way you are, young or old, is just the right way; why not just be happy with yourself?
2. If you want a happy life, join the Franciscans.
Fr. Tom Speier, OFM
60 years Priesthood
Forge ahead! Ignore any doubts!
It only gets better!
Fr. Don Holtgrewe, OFM
60 Years Profession
I advise you to look forward one day at a time. Keep your mind on the here and now; you'll do a lot better that way.
Fr. Reynolds Garland, OFM
65 Years Profession
Be open to whatever way God wants to lead you, and don't take yourself too seriously.
Fr. Charles Smiech, OFM
25 Years Profession
I've needed three principles in my life: ongoing education; a strong commitment to prayer and regular visits to a spiritual director; and a commitment to being an active member in religious life while being challenged and supported by the community.
Fr. Jim Van Vurst, OFM
65 Years Profession
Jim, you are going to experience both highs and lows in yourself the next 65 years as a friar-priest. Always remember, the Good Lord who called you is always guiding, leading you.
Br. Juniper Crouch, OFM
60 Years Profession
When Br. Florian Lalis was training me he said, "Learn anything and everything that comes your way, whether you think you'll need it or not. You'll never know. Keep an open mind." And I've tried to do that. I've kept an open mind, and God has been good.
[NOTE: Juniper is currently taking guitar lessons and teaching himself Tai Chi.]
Br. Tom Gerchak, OFM
25 Years Profession
Today, I would suggest to my younger self to take at least two literature courses, rather than mostly technical and language courses. A world history course would have been helpful, too. I would suggest spending a little more time with other Christians on campus. I would likely have been inspired by their love for our Lord and example of service to others.
Fr. Valentine Young, OFM
70 Years Profession
The advice that I should give to my 20-year-old self is the advice I learned from Fr. Ignatius Brady, OFM (Our Master of Clerics at DSC), when I was 20 years old or even younger. Quoting Thomas of Celano's description of St. Francis' living of the religious life, he said Francis was "semper novus"– always new. That is how I should be, regardless of whether I am 20 years old or 87 years old.
Fr. Carl Hawver, OFM
50 Years Profession
Thank God every day.
Fr. John Paul Flajole, OFM
60 Years Profession
Myself at 20 years old would be so caught up in his world with a perspective so different than mine, I wonder if he could hear much. What I would say is, be humble and remember that you're always changing. Don't overestimate or underestimate yourself. What I thought was important at your age now has less value, and what I thought was unimportant has become valuable. The wisdom gained is a big part of your happiness in old age.
Fr. Michael Chowning, OFM
50 Years Priesthood
God has called you. God will do what God wants to accomplish in you! So, trust in God's Spirit at work in you.
Fr. Frank Geers, OFM
60 Years Priesthood
I have a sign on my wall: "Turn it over". When facing disappointments and difficulties, turn it over to the Lord. This does not mean only after you have tried your best and are still worried; it means turn it over from the get-go, then do your best with God's grace.
Fr. Pat McCloskey, OFM
50 Years Profession
Ease up on yourself, and that will automatically make you ease up on others.
Fr. Bruce Hausfeld, OFM
65 Years Profession
These 65 years have been a great 65 years. There have been ups and downs, but I've enjoyed all of it. And I would highly recommend anyone to join us.
Fr. Tom Richstatter, OFM
60 Years Profession
If I was going to give advice to my 20-year-old self I would say, be very careful as to which advice you listen to.
Fr. David Moczulski, OFM
25 Years Priesthood
When I was 20 I was working full- time at St. Francis Hospital here in Pittsburgh and going to school full-time. What I would tell myself would be the advice that others gave me back then (which I did not follow!): Don't take yourself too seriously; have some fun along the way. You don't get these years back!
Fr. Mark Hudak, OFM
25 Years Priesthood
Always trust the Holy Spirit to be your constant companion and guide. In both good times and bad ones, dive into the pool of God's loving mercy head first without any hesitation. Because Jesus paid the price for your sins, thank Him each and every day. And finally, get used to taking lots of pills. It seems the older you get, the more pills life makes you swallow!
This article first appeared in the SJB NewsNotes.
---
Posted in: Senior Friars