Resources for your journey through Lent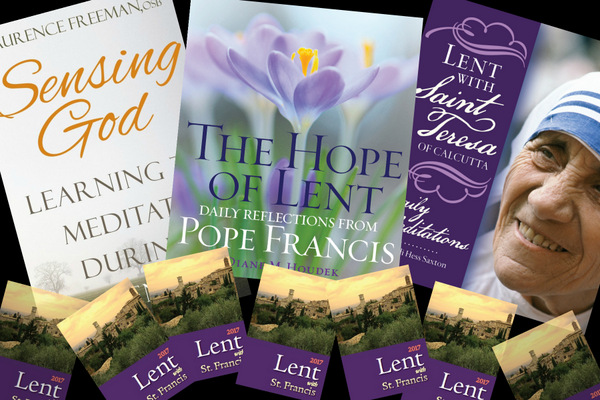 Let the Franciscans guide you through Lent.
~
So many people wanted the popular pocket-size booklet, Lent with St. Francis, 2017: Meditations and Prayers for Each Day of Lent, that we ran out!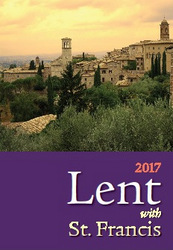 But you can read the electronic version online through Franciscan Media.
Or look for the daily post on our Face Book page: St. Anthony Shrine.
Lent with St. Francis is a collection of prayers and reflections to assist you each day on your Lenten journey adapted from Peace and Good: Through the Year with Francis of Assisi by Fr. Pat McCloskey, OFM. ©2014 Franciscan Media.
____________________________
Franciscan Media publishes several books to guide you on your journey through Lent.  We listed just a few of their titles below.  Visit their Lent Collection page.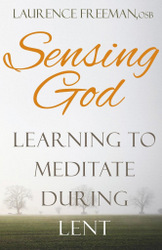 Sensing God: Learning to Meditate During Lent, by Laurence Freeman.
Many people feel drawn to what meditation offers (quiet, reflection, stillness, time alone with God), but few have tried it. Some Christians even feel that they shouldn't meditate. In Sensing God, monk, priest, and spiritual teacher Laurence Freeman may just change some minds. And so will the Holy Spirit, Freeman says – if they begin to meditate for a few minutes each day.
A practical introduction and guide to this ancient Christian practice, Sensing God includes easy-to-follow instructions, guidance and support, as well as 46 enriching daily reflections on the Gospels, highlighting their meaning and continued relevance for living today.
Laurence Freeman, OSB, is a Benedictine monk and director of the World Community for Christian Meditation (WCCM)
______________________________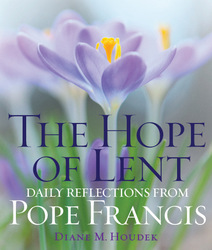 The Hope of Lent: Daily Reflections from Pope Francis, by Diane M. Houdek
With prayer reflections drawn from the words of Pope Francis, this Lenten companion helps you prepare for the Easter season. With Scripture citations for each day of the season, selections from the pope's writings, and ways to bring the pope's message into your life on judgment, justice, forgiveness and mercy, The Hope for Lent will lend a moment's meditation to discover the extraordinary in the ordinary, to be surprised by God's mercy when we least expect it.
Diane M. Houdek is the author of The Joy of Advent, Pope Francis and Our Call to Joy, Lent with St. Francis, and Advent with St. Francis. She is the digital book editor for Franciscan Media.
______________________________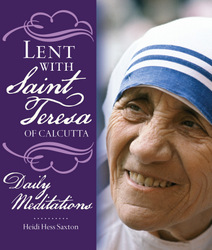 Lent with Saint Teresa of Calcutta: Daily Meditations, Heidi Hess Saxton
"Thoughtfulness is the beginning of great sanctity," observed Mother Teresa, one of the most beloved Catholic women of all time, popularly acclaimed a saint in her own lifetime. This small book of daily reflections for Lent and Holy Week celebrates the humility, charity and devotion of Saint Teresa of Calcutta.
Lent with Saint Teresa of Calcutta offers a short Scripture passage for each day, a brief meditation with a quote or story from the life of this remarkable woman, plus reflection questions and a short prayer to begin or end the day. Read alone or with a small group, this is a helpful resource for reflecting upon the mercy of God—and modeling the generous heart of this saint from Calcutta in our own lives.
Heidi Hess Saxton is a Catholic editor, wife, and mother, and is author of several books.  Heidi is editorial director of Servant, an imprint of Franciscan Media. She writes for adoptive, foster, and special-needs families at "A Mother on the Road Less Traveled."
Visit Franciscan Media's Lenten Collection for these and more resources.
---
Posted in: Lent and Easter, Newsletter, Pope Francis, Prayer, Saint Francis