Oops! St. Anthony found our lost page.
Page found!
~
Our Lent with Saint Anthony pocket booklet is perfect in many ways, but we recently discovered that it is missing a page.
The page with the prayers and reflections for February 24, also known as the First Saturday of Lent, was mistakenly omitted.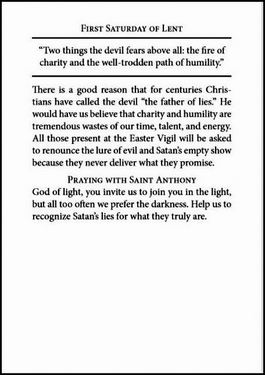 You can print this post or download this PDF to cut out the page and insert it into your booklet between pages 12 and 13. Or view the online version of the entire booklet here.
First Saturday of Lent
"Two things the devil fears above all: the fire of charity and the well-trodden path of humility."
There is a good reason that for centuries Christians have called the devil "the father of lies." He would have us believe that charity and humility are tremendous wastes of our time, talent, and energy. All those present at the Easter Vigil will be asked to renounce the lure of evil and Satan's empty show because they never deliver what they promise.
Praying with Saint Anthony
God of light, you invite us to join you in the light, but all too often we prefer the darkness. Help us to recognize Satan's lies for what they truly are.
~
And we'll send you this post again of the morning of February 24 so you don't miss a day!
---
Posted in: Jesus, Lent and Easter, News, Newsletter, Prayer, Saint Anthony