Senior friars keep Franciscan Spirit
Please remember our Senior friars
Our retired friars move more slowly than in years past; their commitments are smaller in number. They no longer lead bustling parishes or teach in busy classrooms all day. Some use walkers to get around; some hold canes with unsteady hands. Though their hearing may be failing, their desire to serve in the Franciscan spirit has not wavered.
Some people are surprised to hear how much work our retired friars still do if they are physically able. At 86 years old, Fr. Ric Schneider, OFM, is happy to continue serving however he can, and he stays quite busy presiding at daily Mass, assisting with mission appeals, bringing the Eucharist to the infirm or homebound, hearing confessions, or preaching at weddings and funerals.
"Anyone who needs help – I go," Fr. Ric says. "I've been blessed with good health and this is one way I can give back in thanksgiving."
Within two consecutive Sundays he preached 14 homilies at two different churches nearly 2,000 miles apart! When he's not required to travel for mission appeals, Fr. Ric serves locally. He recently directed marriage preparation of a couple in their thirties who no longer attend Mass.
"I challenge and encourage them," he says. "I ask them how they can ask God to bless them and their marriage when they aren't living by the laws they profess. This particular couple is now attending church again!"
Fr. Ric jokes that he can't "sit still," and even though he really didn't want to retire, the time had come for him to step down as pastor of St. Mary's Church and School in Bloomington, IL, where he served for 23 years and helped build a strong, thriving community.
When he first arrived at St. Mary's, he was repeatedly asked when he would close the school due to the mounting debt and financial struggles it faced. His answer was, "never, as long as I'm pastor!"
Instead, they added eight classrooms and brought the enrollment up from 80 to 170. It's leveled off to around 145, where it's held steady for the past 10 years. The Franciscans also grew the church from 500 families to 1500.
Fr. Ric has served in many capacities since his ordination to the Franciscan priesthood in 1959. Before his time at St. Mary's, he taught for three years at Roger Bacon High School in Cincinnati. Next he did vocation work for the St. Francis Seminary on Mill Road in Cincinnati. For seven of those years he was dean of students. After that he spend three years as pastor of a very poor, rural community in Louisiana.
"The children in Louisiana had never seen men in brown robes before," Fr. Ric chuckles. "I had one small child approach me and ask – wide eyed – if I was God! That turned into a good teachable moment."
He is now living at St. Clement Friary in Cincinnati, which is home to 16 friars, 11 of whom are retired.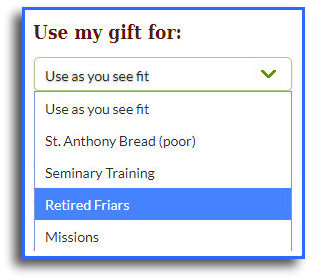 Fr. Ric has been very generous with his time and talent. He has done much good work for the Church and continues to do so. Would you please consider a gift to help Fr. Ric and all of our retired and infirm friars? Your gift will provide them with quality care, peace, and comfort in their advancing age. Your gift is a warm "thank you" to them for their lifetime of service.
Please know that our retired friars are very grateful for any contribution you can make. You remain in their prayers. May God bless you for your generous support of our friars and Franciscan mission.
Visit our Donation Page and choose 'Retired Friars' in the Use My Gift For section.
---
Posted in: Senior Friars