Solemn Novena to St. Anthony begins April 12
The Solemn Novena to St. Anthony (our special yearly novena leading up to his feast day) will begin tomorrow, April 12, and conclude on June 7, six days before his feast day on June 13. (This is different from the novena service we have each Tuesday at our National Shrine of St. Anthony.)
Many loyal St. Anthony followers have signed up to pray this novena. It is very comforting to know that on each of those nine Tuesdays, thousands of people from around the world will be praying these same prayers with us.
The decision to pray a novena is often because of an urgent request for God's intervention in our life, but you can pray a novena for any intention. With this novena, we are making a promise to pray each Tuesday for nine weeks.
If you have never prayed a novena, I encourage you to join us. If you have not signed up yet, there is still time, and you can do so here: StAnthony.org/Pray-Novena. We've made it very easy to participate. Each Tuesday morning, starting tomorrow, you will receive an email that includes the novena prayers and a reflection from one of the nine friars below.
Praying a novena can transform your faith and prayer life. We pray novenas because they work, and they open us up to God's grace.
May the Lord, through the intercession of St. Anthony, grant your petitions.
Fr. John Bok, OFM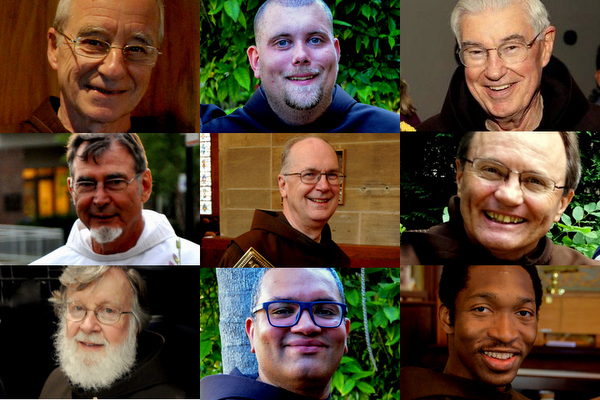 Those who signed up for the Solemn Novena to St. Anthony will also receive a special reflection from a Franciscan friar each Tuesday during the novena. These are the friars who contributed:
Top (L-R): Fr. Dennet Jung, Br. Phil McCarter, Fr. Jeremy Harrington
Middle (L-R): Fr. Max Langenderfer, Fr. Damian Cesanek, Fr. Henry Beck
Bottom (L-R): Fr. Loren Connell, Br. Brian Menenzes, Br. Raphael Ozoude
Sign up here for the Solemn Novena to St. Anthony weekly emails.
---
Posted in: Prayer, Saint Anthony