St. Anthony and a Seemingly Impossible Situation
I have so many good stories of St. Anthony coming to my rescue and hearing my plea for a lost item. The one that especially comes to mind is when my gold wedding ring slipped off my finger on a cold, early morning while dropping my daughter off at school. It had snowed and the drift near the car was high. My ring had completely vanished. After searching and asking the schoolteachers to tell the other parents to keep an eye out for it, I left distraught.
Upon picking up my daughter later that day, no one had seen anything.
That night it rained, the snow turned to ice, and then it began to snow again. Snowplow trucks were out on the roads and the school had just had its parking lot cleaned and plowed. I dropped our daughter off at school and then got out of the car and stood where I had been a day ago. I scanned the area and started to cry. Please, St. Anthony, help me. Out of the corner of my eye (honestly, I don't know how I saw it), I noticed a small gold flick in the opposite corner of the fence near the car. I dove my hand into the snow and ice. There was my ring—frozen, protected, waiting for me to find it!
Thank you, St. Anthony, for hearing this plea and all the many other pleas for lost items that my family and I have asked you to assist us in finding. You have never let us down. We love you!
Constance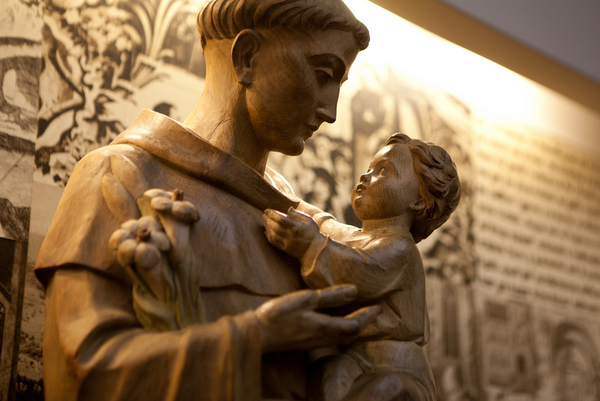 We'd love to hear your St. Anthony story, too. Use our Contact Page or send an email to shrine@franciscan.org or call Colleen Cushard at 513-721-4700. Share your prayers with us and our online community on our Prayer Page. You can donate to St. Anthony Bread or any of our ministries on our Donation Page.
---
Posted in: Prayer, Saint Anthony