St. Anthony helps reunite Sr. Eileen & Moo Moo
I've fostered dozens of rescued kittens over the years, but have never "lost" one…until Jan. 31, that is. As is my routine before leaving for my job as director of communications for the Friars of St. John the Baptist Province, I did a head count that morning to make sure my three resident cats, along with fosters Shamu and Calamari were accounted for. Shamu was nowhere to be found. I had just picked up the kittens, who are both very shy, two days before, so assumed he was hiding somewhere. When a thorough search of my apartment yielded no Moo Moo (my nickname for him), I became concerned that he had slipped outside when I was taking out the trash or making a trip to the car.
When I texted my friar boss (Fr. Bill Farris, OFM) to let him I'd be late coming into the office, his response was: "We'll get St. Anthony on it." A friend soon arrived, and we searched the apartment again, in closets, drawers, and cabinets, under furniture, even taking my bed completely apart. We looked in the basement and outside, up and down the street, under cars and in bushes. My landlord, who lives upstairs, even brought his dog outside and into the basement to sniff for the kitten. Still no Moo Moo.
At the end of a Zoom meeting with communications and development staff, we prayed to St. Anthony. I then had to suspend the search for Moo Moo temporarily to get to the office. While still concerned about him, I did feel a sense of peace throughout the day that he was safe in St. Anthony's hands.
When I arrived home later that afternoon, my plan was to search again for Moo Moo, and if there were still no results, set a humane trap outside. I called the director of the group I foster for to update her on the situation and she assured me of her prayers, too. As we were chatting, Calamari suddenly came tearing through the room, followed by guess who? Moo Moo, playing chase with his sister. He seemingly appeared out of nowhere, and I still don't know where he had been hiding!
For me, the moral of the story is to trust in St. Anthony and the prayers of your colleagues. I'm so grateful to work with such kind, faith-filled people who didn't hesitate to turn to prayer for a cause that might have seemed trivial to some, but meant a great deal to this kitten foster mom. Now I'm praying to St. Anthony to find Moo Moo a loving home of his own!
Sr. Eileen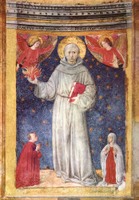 We'd love to hear your St. Anthony story too. Use our Contact Page or Email: shrine@franciscan.org or call Colleen Cushard at: 513-721-4700. Share your prayers with us and our online community at our Prayer Page. You can donate to St. Anthony Bread or any of our ministries at our Donation Page.
---
Posted in: Prayer, Saint Anthony