Lost money could've been a real hardship but St. Anthony came through once again.
~
The parishioners in my church decided to provide chocolate rabbits for displaced children this Easter.  We collected donations and I was going to do the shopping.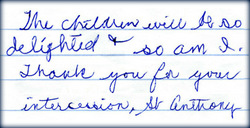 On the morning I was to go to the store, I could not locate the envelope containing a nice amount of money for the candy.
I searched the house, turning over the garbage on the floor, going through newspapers, every drawer, my purse, etc.
Praying to St. Anthony I promised to write a letter to you if the money was found.  Several friends and family also prayed.
Although I am low-income, I thought I would make up the money which would have been a hardship for me.
After three days, I was going through a binder and found the envelope with the money.
The children will be so delighted and so am I.  Thank you for your intercession, St. Anthony.
–CL
We'd love to hear your St. Anthony story too. Use our Contact Page or Email: shrine@franciscan.org or Call Colleen Cushard at: 513-721-4700. Share your prayers with us and our online community at our Prayer Page. You can donate to St. Anthony Bread or any of our ministries at our Donation Page.
Signup for our newsletter!