Unique St. Anthony Celebrations from devotees
In last month's e-newsletter, Fr. John shared how the Franciscan friars in Cincinnati would be celebrating the Feast of St. Anthony at the National Shrine of St. Anthony of Padua and asked you to answer the question, "How I celebrated the Feast of St. Anthony." Below are some of the responses we received.
Every year I purchase loaves of bread and have them blessed by my parish priest and then I deliver them to friends and family. Included with the bread is a St. Anthony prayer card and a bread blessing prayer. This year I delivered 50 loaves!
Over the years, as a thank you to St. Anthony, I have had two St. Anthony tunics made. I have had my granddaughter, my husband, and my nephew wear them on St. Anthony day as a thank you for prayers answered.
Maria
~~~
We celebrate St Anthony's feast on the 13th of June by gathering at the town hall to attend the holy mass. With candles in our hands, we pray for blessings. We also give thanks St Anthony who died and was born into eternal life with Our Lord Jesus.
Thanks,
Prof. Raj
Pathankot, India
~~~
St. Anthony has been a special "friend/saint" to me since I was in 2nd grade and my teacher, Sr. Francis Leo, taught us about him. Also, my Italian- Catholic parish celebrated St. Anthony's Feast every year at this time, with a huge carnival - rides, foods, games, band music, and the traditional statue of St. Anthony carried through the streets of the neighborhood. Since then, I've had a special devotion to St. Anthony as he has helped me in many ways I consider "miraculous".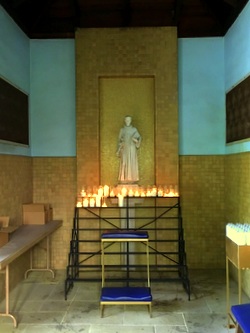 He has helped me find lost items, everything from a tiny toy of my young son, lost in a friend's home; to my cell phone dropped on a New York City street, to my diamond engagement ring which went missing in my own home and turned up 10 days later in an unusual place in a dresser drawer. I could write a book on the many ways St. Anthony has interceded for me over the years. Last summer, I took my 7-year-old granddaughter with me to Sunday Mass. She was interested in the various statues in the back of my church and insisted on lighting a candle in front of St. Anthony. When we got home, she found my phone's Bluetooth device which I'd misplaced a few days earlier.
So today, my granddaughter and I will attend our church's 12 noon Mass to celebrate the Feast of St. Anthony. I also will be remembering my late father whose middle name was Anthony.
Have a blessed day!
Helen
~~~
Richard also shared this story with us.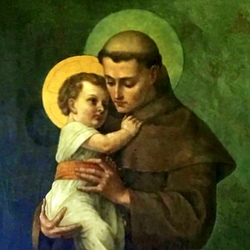 I so enjoyed reading your bulletin about St Anthony! Thank you Fr. John Bok. I live in England and am an Anglican, not a Roman Catholic, but I am drawn to Catholicism. I have always said prayers to both St. Jude (frequently graced with prayers answered) and St. Anthony. And in the case of the latter, have found many mislaid items by asking for St. Anthony's intercession. Wonderful!
Warm regards & Blessings,
Richard
We'd love to hear how you celebrated the Feast of St. Anthony too. Send us an email at Shrine@Franciscan.org
---
Posted in: Prayer, Saint Anthony