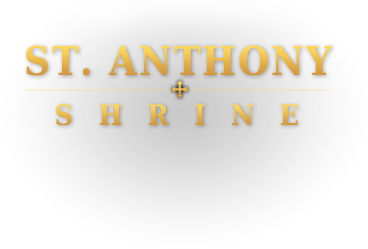 PRAYER REQUESTS

Please pray for the following intentions
Please pray for healing for 13-week-old Olivia, who is very ill and fighting for her life. Her parents are frantic with worry.
Susan - Monday Sep, 22, 2014

Dear St. Anthony and fellow prayer warriors, thank you for praying for my husband s job offer. It came through! I will be praying for everyone else's requests. Peace and Love to all!
Steff J, Ky - Monday Sep, 22, 2014

NEWS & EVENTS

Wednesday Sep, 17, 2014
If you display or wear a cross or crucifix, this is a good week to sit for a quiet moment and think: WHY? ...
Tuesday Sep, 16, 2014
Have you ever felt the frenzy of Uncle Billy in the movie, "It's a Wonderful Life"? Ask St. Anthony to find your lost items. Dear Shrine Staff, I ...

SEE ALL
PRAYER REQUESTS
NEWS & EVENTS