St. Anthony has never failed John
"You have never failed me"
~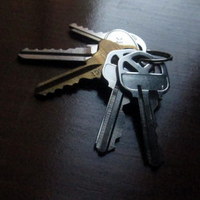 With a lost right leg and at 66 years of age, I keep my handicap van keys and house keys on a clip on my electric wheelchair.
I got out of the van, went to the house and found my house keys were missing. Well, I had last seen them at the store, so I back tracked to the store and came home, still not finding them. I then asked my old friend St. Anthony "who has never failed me" to please help me find my house keys to get into my small mobile home. I survive solely on my monthly SS check so I could not afford to have new locks and many other keys duplicated. Soon after, as the van lift settled to the ground, I looked back in the van and there they were under the driver seat on the carpet. Oh thank you St. Anthony "you have never failed me during my 66 years." He truly works miracles. Over my life span he has helped me too numerous times to count.
--John
We'd love to hear your St. Anthony story too.  Use our Contact Page or Email: shrine@franciscan.org or Call Colleen Cushard at: 513-721-4700.  Share your prayers with us and our online community at our Prayer Page.  You can donate to St. Anthony Bread or any of our ministries at our Donation Page.
---
Posted in: Jesus, Newsletter, Prayer, Saint Anthony