St. Francis Novena – Day 7
Today as we pray the St. Francis Novena together, let us pray for Pope Francis and all our spiritual leaders.
Click on the video below to follow along with Fr. Murray Bodo, OFM. Or read the prayer below the video at your own pace.
St. Francis visited Pope Innocent III seeking approval for his Rule and the way of life for his followers. At first the pope was reluctant but in a supernatural dream, where the St. John Lateran Basilica was falling down in ruin, St. Francis held the building up. At last, Pope Innocent III wholeheartedly approved of the Franciscans.  Post your prayer intentions to him on our Prayer page.
The Novena to St. Francis of Assisi
Day 7
In the name of the Father, and of the Son, and of the Holy Spirit, Amen.
Poor and humble Saint Francis, through your kind intercession we seek to love God above all things. We seek the faith, hope and love that moved you to joyfully renounce honors and riches and to radically follow our Lord Jesus Christ.
Pray for us that we come to see the privilege of suffering with and for the poor after the example of Jesus. Help us to be always grateful for all the blessings we have received and give us the strength to overcome our most pressing concerns.
(Include your personal intentions now.)
Humble and loving St. Francis, you were untiring in your service to the poor. Obtain for us the same heart for mercy and the desire to give of ourselves in the hope that we may one day be blessed with the promises of Christ
St. Francis, help us to continue praying for the grace to truly repent and change our hearts by actively seeking reconciliation with God and all those we have offended or hurt in any way. May the blessings we receive through your intercession deepen our faith, and inspire us to store up treasures in Heaven, where we hope to spend eternity with our loving God.
Glory to the Father and to the Son and to the Holy Spirit, as it was in the beginning, is now and will be forever. Amen
St. Francis of Assisi, Pray for us!
In the name of the Father, and of the Son, and of the Holy Spirit,
Amen.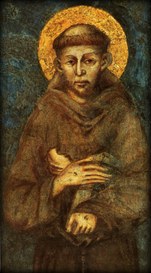 Post your prayer requests on our Prayer Page.
Light a candle or give alms on our Donation Page.
Fr. Murray Bodo, OFM, is a writer and poet. He explains the close relationship between St. Francis and Jesus in, Francis and Jesus, available at Franciscan Media.
Videos and articles on St. Francis at Franciscan Media.
We follow Jesus in the footsteps of St. Francis, learn more at Franciscan.org