Advent and Christmas 2020
"May the coming Advent Season be a time of joyful anticipation & hope."
–SJB Provincial Minister Fr. Mark Soehner, OFM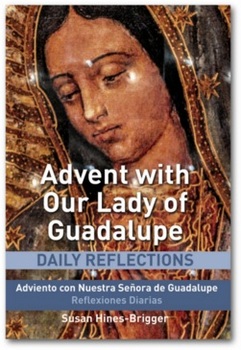 Join the Franciscans in your journey through Advent to the birth of our Savior.
The first day of Advent is Sunday, November 29. Franciscan Media has created an Advent booklet to fit in your pocket.
Advent with Our Lady of Guadalupe, by Susan Hines-Brigger is in Spanish and English.
To receive a free copy click here.
Offer valid in the US only. If you live outside of the US, contact us for the electronic version at friarworks@franciscan.org
Christmas Events Around the Province
DISTRICT OF COLUMBIA

Franciscan Monastery to the Holy Land
1400 Quincy Street N.E., Washington, D.C. 20017
Christmas Vigil Masses – 5:00 pm, 6:15 (en espanol), 8:00 pm (live streamed) and Midnight (followed by procession to the Nativity Grotto)
Christmas Day Masses – 8:00 am, 10:00 am, and Noon
Please note: The church and Monastery are closed after the noon Mass.
Website: https://myfranciscan.org/
INDIANA
Holy Family Parish
3027 Pearl St., Oldenburg, IN 47036
Christmas Vigil Masses – 4:00 pm, 8:00 pm and Midnight
Christmas Day Masses – 9:00 am and Noon
All Masses live streamed on Facebook: https://www.facebook.com/HolyFamilyChurch.Oldenburg.IN
Website: http://holyfamilychurcholdenburgin.com/
LOUISIANA
St. Mary of the Angels
3501 N. Miro St., New Orleans, LA 70177
Christmas Vigil Mass – 6:00 pm
Christmas Day Mass – 10:00 am
Live Masses on Facebook: https://www.facebook.com/StMaryoftheAngelsNOLA
Website: https://smaneworleans.org/
MICHIGAN
Church of the Transfiguration
25231 Code Road, Southfield, MI 48033
Christmas Vigil – Mass at 4:30 pm and 10:00 pm
Christmas Day – Christmas Choral Music and Mass at 8:30 am and 11:00 am
Masses live streamed on Facebook: www.facebook.com/transfigurationsouthfield
Website: http://www.transfigsfld.org/
OHIO
St. Anthony Shrine
5000 Colerain Ave., Cincinnati, OH 45223
Christmas Vigil – 9:00 pm
Christmas Day Mass – 10:00 am
Website: https://www.stanthony.org/
St. Clement Church
4536 Vine St, St. Bernard, OH 45217
Christmas Eve
Family Mass – 4:00 pm
Spanish Mass –  6:00 pm
Carols – 10:00 pm
Vigil Mass – 10:30 pm
Christmas Day Mass – 10:30 am
Masses live streamed on Facebook: https://www.facebook.com/stclementcincinnati
Website: http://www.stclementcincinnati.org/
St. Francis Seraph Church
1615 Vine Street, Cincinnati, OH 45202
Christmas Vigil – Mass at 4:00 pm
Christmas Day Mass – 10:00 am
November 27 – January 1, 2020 – Live Outdoor Nativity, everyday 1:00 – 7:00 pm
November 27 – December 31 – International Christmas Display at Christian Moerlein, 1621 Moore Street. Fridays 4:00 – 7:00 pm, Saturdays noon – 7:00 pm, Sundays 1:00 – 7:00 pm
Reserve a time slot
Watch the virtual tour here: https://www.stanthony.org/christmas/
Website: http://www.sfsparish.org
PENNSYLVANIA
St. Francis Retreat House
3918 Chipman Road, Easton, PA 18045
Monday, December 14 – A Franciscan Christmas, Mini-Retreat, Dinner 6:00 pm, Presentation 7:00 – 9:00 pm (Register by December 7, Donation $30) Social distancing precautions in place.
https://stfrancisretreathouse.org/monday-mini-retreats/
Christmas Day Mass – 10:00 am, live streamed on Facebook: https://www.facebook.com/st.francis.retreat.house
Website: https://stfrancisretreathouse.org/
JAMAICA

Mary, Gate of Heaven
Norman Manley Blvd.
Negril, Westmoreland
Jamaica, West Indies
Christmas Vigil – 5:00 pm
Christmas Day – 10:00 am
Masses live streamed on Facebook: https://www.facebook.com/MaryGateOfHeavenChurchNegrilJamaica/?ref=page_internal
Website: http://www.mghcatholic.com/index.html